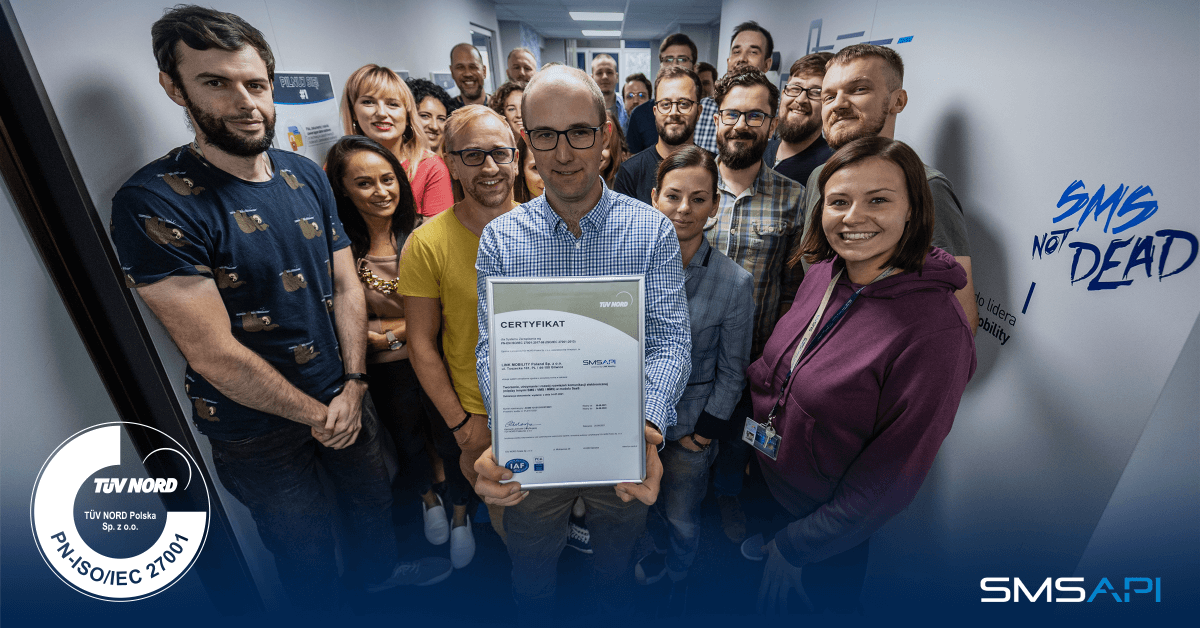 Table of Contents
Proudly announcing SMSAPI has been awarded the ISO 27001 certificate. It's official now: we are offering the highest security standard. 
What is ISO?
The ISO (International Standardization Organization) is a globally trusted organization uniting local institutions responsible for creating, implementing, and proliferating norms. A norm contains rules and guidelines for proceeding in various situations and processes, e.g., in production, services, data protection, etc.
What is the ISO 27001 certificate?
ISO 27001 or PN-ISO/IEC 27001:2013 is an international norm-setting standard of system, infrastructure and data protection. The certificate is granted by independent organizations, TÜV Nord Polska, in our case. Positive passing of the audit guarantees a high standard of security and numerous other procedures that decrease the risks of unauthorized access to the data.
Why is the ISO certification crucial for SMSAPI?
The ISO 27002 is a clear signal for the SMSAPI customers and partners. We are safe, we take security matters seriously, and we have the appropriate countermeasures prepared. The organization granting the certificate, TÜV Nord Polska, is considered among the most strict auditors in Poland. Hence you can be sure of its impartiality.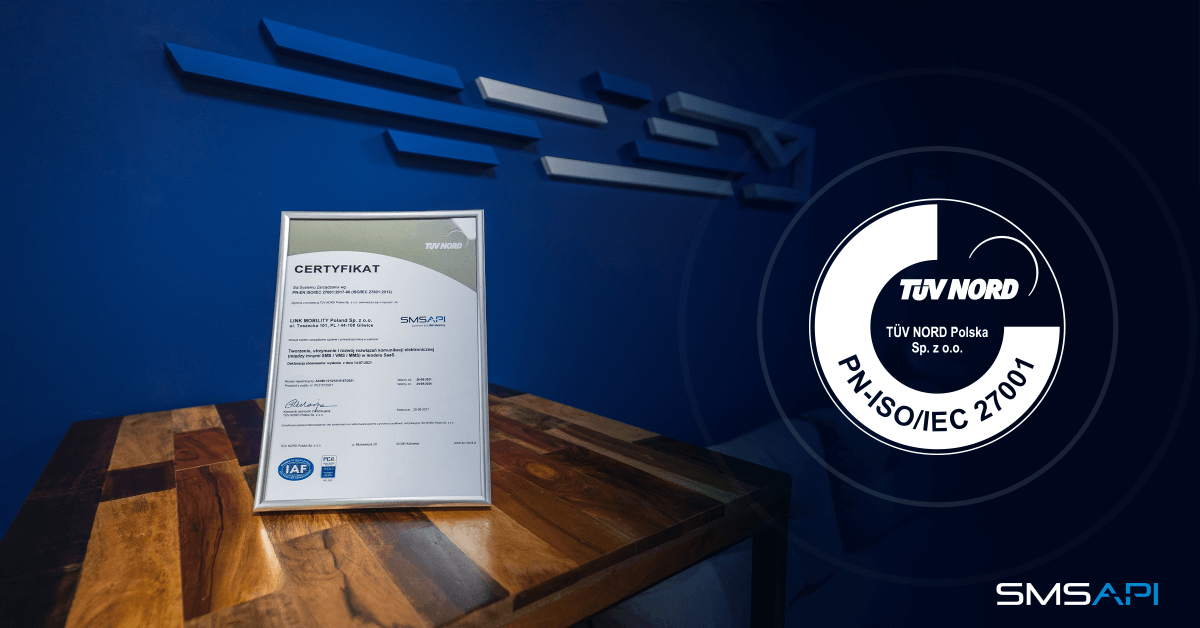 What ISO 27001 means for SMSAPI clients?
Awarding ISO 27001 to our company means improvement of data security. We have finished certification in just six months, instead of a regular time needed for preparation ranging from a year to two. It proves that our security procedures have already been higher than average. Clearly, the SMSAPI and LINK Mobility Poland teams were well prepared for such quick implementation.
How does ISO 27001 changes SMSAPI products and services?
From the perspective of our client, nothing significant changes. The changes have been and will be implemented on the infrastructural level. They won't impact the speed, ease of using and quality of our bulk SMS platform. Certification and consequential changes in security require no actions from SMSAPI clients.
From the expert perspective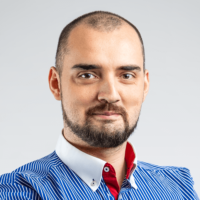 As in any other implementation, so in ISO, the "soil" you work with are crucial. The more fertile it is, the quicker it is to welcome changes.

Things that ISO requires are imperative: involvement of the management as well as all other employees, good mapping of business and information flow processes and people responsible for them. Then might come following steps, that won't be even possible to make otherwise.

Today, all organizations should be prepared for every circumstance. Workplaces are open to all kinds of threats. We work remotely, we take company's devices to our homes, and we travel with them. All of this generates a tremendous amount of possible openings.

Thus, staff responsible for security management should concentrate on the "zero trust" approach, which doesn't have an implementation scheme but allows to verify user and device identities.

Łukasz Mitera – IT System Security & Audit Specialist SMSAPI
What's next?
The ISO 27001 is a milestone in SMSAPI history. From this day onward, we can guarantee that all that we do is compliant with international norms. At the same time, we don't stop in constant improvement of our products and services. The certificate is a reference point and an important lesson – we can do things quicker and better than our competition.