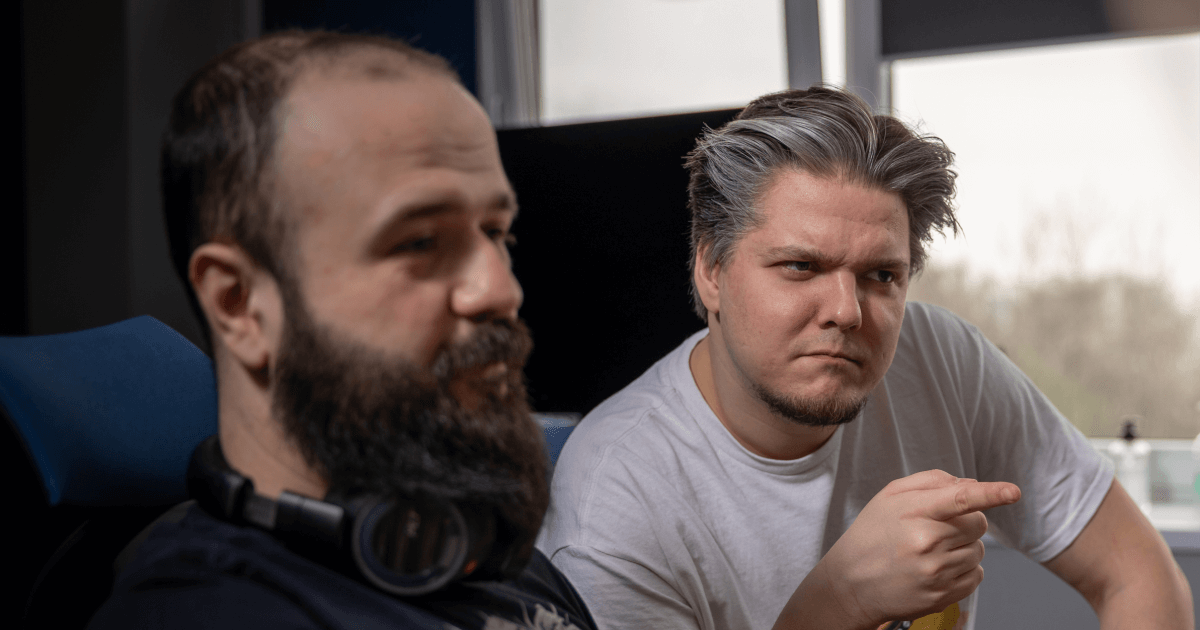 Table of Contents
Discover a new feature of the SMSAPI Customer Portal: Country filtering.
Presenting the newest addition to the SMSAPI Customer Portal:
Country filtering
The Country filtering feature responds to the growing demand from our customers for global bulk SMS messaging. Therefore, we have decided to expand the capabilities of our professional SMS gateway with a precise tool for controlling authorized destinations for text messages. From now on, you can block outgoing SMS messages to selected countries; thus, control SMS communication costs better.
This simple yet extremely helpful solution will prove essential when you notice unexpected messages sent to more expensive destinations. The Country filtering protects your account from attempts at abuse by unfair competition.
Did you know that SMSAPI is a global SMS messaging platform?
You need just one account at SMSAPI to communicate with customers worldwide. Read more about bulk SMS countries to all countries.
Discover a new SMS cost-cutting tool – a user manual
The new feature is already available in the SMSAPI Customer Portal, so go ahead and test it! Go to Country filtering in the Account setting menu.
You can choose one of three modes: "Send only to", "Do not send to", or "Do not restrict the sendings". Only one mode can be active at any time. Selecting a different one will reset your settings.
Remember that any changes you make within this new feature will immediately affect your entire account. We advise caution if you are unsure about the potential consequences of these decisions. However, please note that reverting the settings is simple and always available.
"Send only to" mode
As you can see, the SMS system will default block all messaging outside the United Kingdom. You can any number of countries to this list.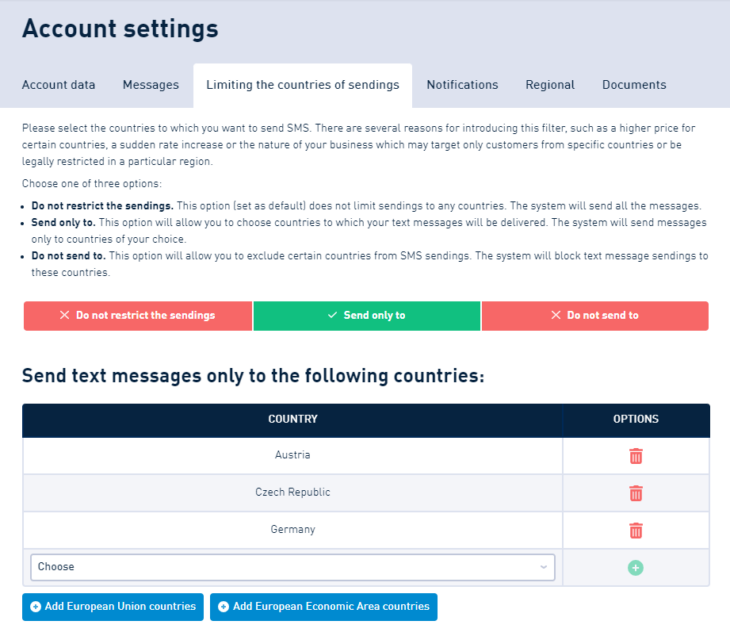 Add a new country by selecting it from the list and then clicking the green plus on the screen's right part. Delete unwanted positions using the trashcan icon. There's no upper limit of countries added.
We have also prepared several suggestions for your convenience: pre-made lists of the most commonly selected countries (European Union and European Economic Area). Clicking the blue button will add the specified group to the allowed destinations. You can customize this selection according to your preferences.
Attention
The filtering feature works immediately and applies to your entire SMSAPI account. We advise caution when using this feature, especially if you run SMS campaigns involving multiple countries.
"Do not send to" mode
The second mode in which the new feature can operate is excluding unwanted countries.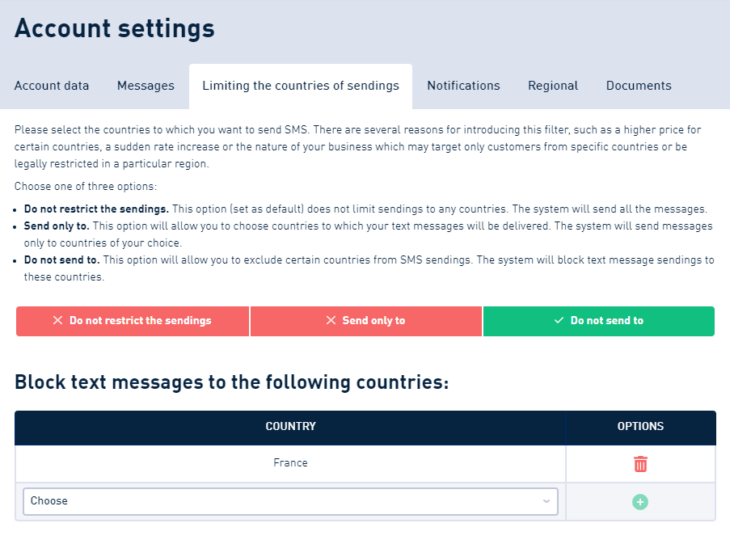 Similarly, you select countries from the list you do not want to send messages to, confirm it with a plus sign, and voila, you have a blacklist of destinations. From now on, the SMS gateway will not send messages to numbers originating from the specified destinations.
"Unrestricted sending" mode
In this mode, the SMS system will send messages to all countries.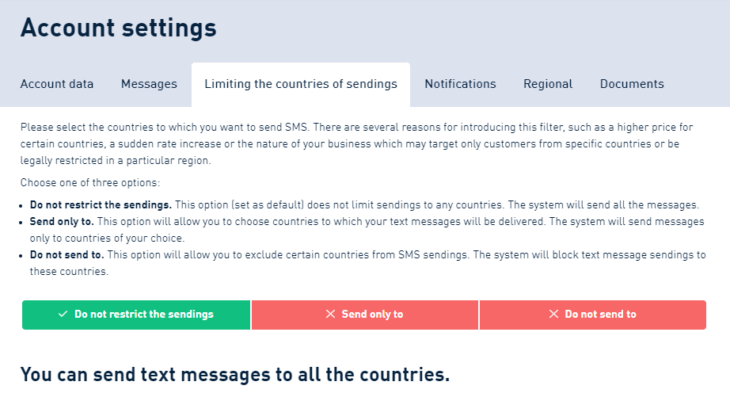 Example of using the new feature
You run a company that operates only within the European Union. You sell beautifully handcrafted lamps. On your website, you have set up a verification process for new accounts using a code sent via SMS.

From now on, you can narrow down the automatic sending of verification SMS messages to countries where it is profitable to send orders. The filtering of sending countries feature helps you save on users whom you ultimately do not wish to serve.
Country filtering – questions and answers
Below you will find answers to questions about the new feature in the Customer Panel.
What is the Country filtering feature?
The Filtering of sending countries is a feature in the SMSAPI Customer Panel that adds three new sending modes: "Only send to," "Don't send to," and "Do not restrict the sendings."
What are the benefits of the new feature?
It improves security and provides better control over costs associated with unexpected SMS sending to more expensive destinations. From now on, you gain more precise control over the list of countries to which you want to send messages. You can also specify destinations you do not want to send SMS to.
Do I need to change the settings before each campaign?
No. You only need to configure it once. Your preferences will be saved. You can change the settings at any time.
Where can I find the Country filtering feature?
You can find it in the Country filtering tab in your account settings.
How does the new feature affect user permissions (subusers)?
Your subusers will inherit the settings. You don't need to do anything to maintain the current settings.
Where can I ask questions about international messaging?
Feel free to contact our customer support team or your account manager—the contact information is at the bottom of the menu on the left side of the screen.
Do you need an introduction to the SMSAPI Customer Panel?
The SMSAPI Do-it-yourself series of articles is a comprehensive guide to your account and our Customer Panel. Choose the topic you're interested in and see how quickly you can send your first SMS campaign!
Other methods to secure your SMSAPI account
Learn about various methods to improve data security, access control, and account spending on your SMSAPI account. The guide includes topics such as SMS password login, tokens, encrypted connections, and much more.
SMSAPI is ISO 27001 certified
Since August 2021, SMSAPI has been ISO 27001 certified by TÜV Nord Polska. Read about it!