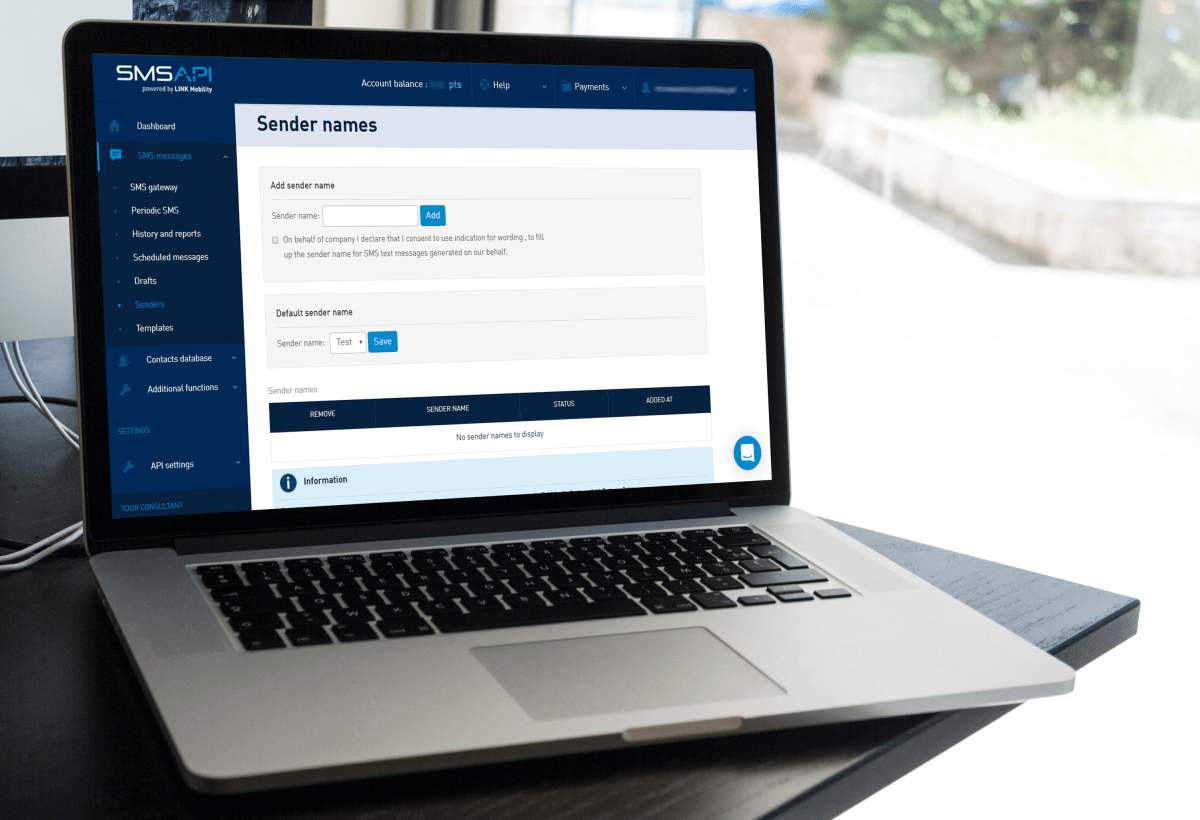 Table of Contents
Since alphanumeric sender IDs are the first thing your customers will see in their notifications bar and inbox, they are the most important feature of professional mobile messaging.
This article will show you why and how to send SMS messages with a company name instead of a number.
Are you thinking about using bulk SMS messages to engage your customers? You should apply for the alphanumeric sender ID! It replaces a standard mobile number with a chosen name, e.g., your brand or business name. Although the customers won't be able to reply to such messages, branded SMS have indisputable advantages. Find out how to use sender IDs.
Welcome to SMSAPI
We are SMSAPI – global A2P SMS provider for companies. Test our services and features like SMS API, branded texts, 2Way messaging, HLR lookup and other. Start with a free trial account and gain access to all SMS gateway features.
What is a SMS sender ID?
Sender ID is a basic, if not an essential, feature of A2P SMS service. By masking a telephone number with an alphanumeric name, you gain the first advantage – credibility. Furthermore, if the recipients know your brand, and they probably should since they've agreed to receive your messages, they will be more likely to open and read them. Sender names have a tangible impact on the effectiveness of your SMS marketing and different types of communication (transactional messaging, 2FA).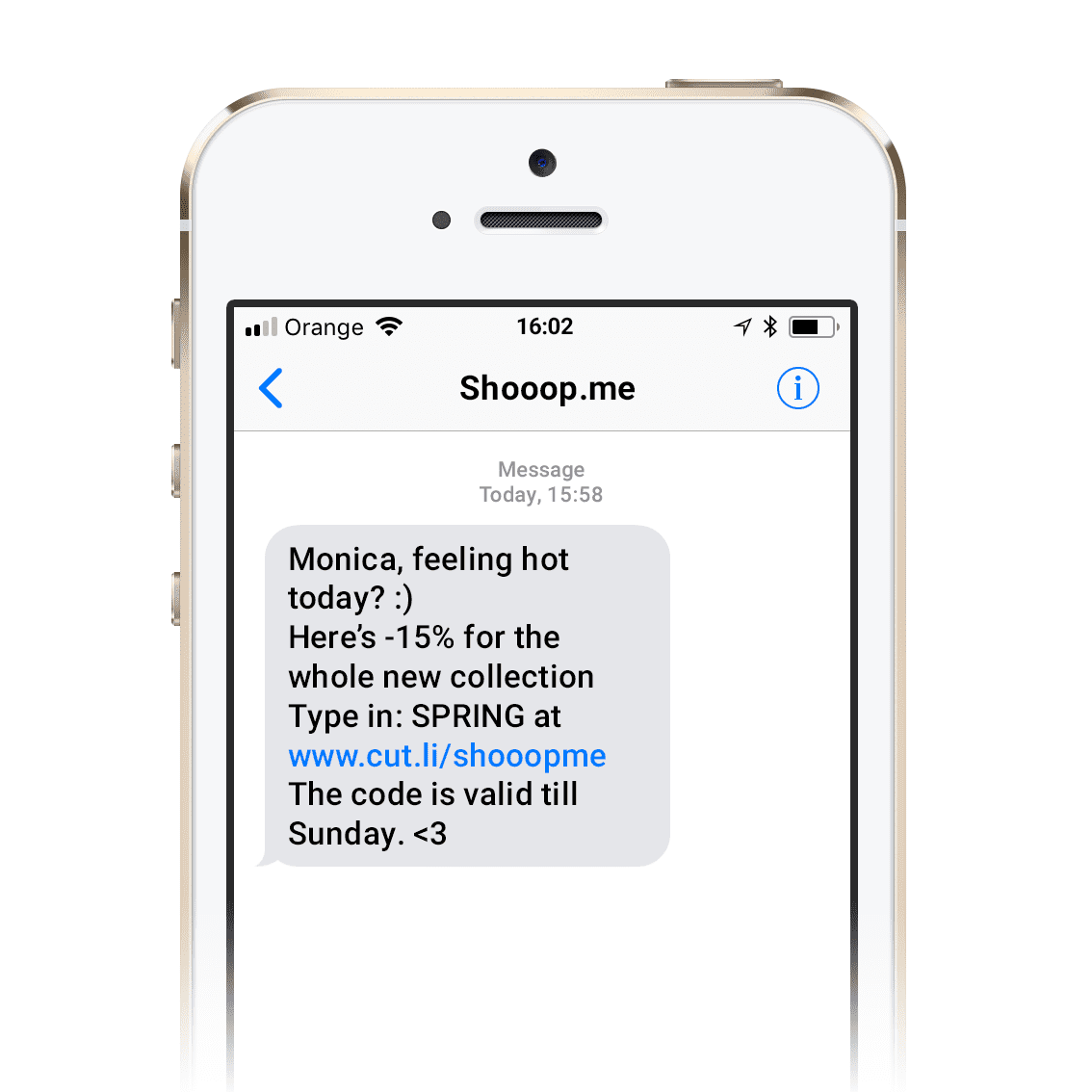 In some cases, a random number would be perfectly enough, since you can include the company name in the body content. Just keep in mind the 160-character limit of a text! Nevertheless, if you take relationship building seriously, you should consider your sender ID a more elegant and practical solution.
SMS Sender ID basics
Sender ID (or SMS sender name) is a string of up to 11 alphanumeric characters that entirely replaces a telephone number. The feature's primary purpose is to verify and legitimate the communication and thus confirm the message sender as a responsible party.
Quick facts: SMS sender IDs
GSM standard supports sender IDs up to 11 characters.
Register alphanumeric sender IDs in SMSAPI Customer Portal.
All sender IDs are verified by the SMSAPI staff.
Due to local regulations, sender IDs might not work in every country. Local GSM operators can mask them with a 4-digit number or a generic name like INFO-SMS.
Please address your SMSAPI account manager to confirm the feature's availability in the desired destination.
Most SMS API integrations support custom sender ID.
You cannot answer a message with an alphanumeric sender ID. If you want to take advantage of two-way messaging, please use short code or long code instead.
You can use your phone number as an SMS "From:" name.
Spam and scam alpha sender IDs are not allowed.
How to send an SMS with a company name?
Acquiring a sender ID is easy, yet we require proof of legitimate use. The feature is available to all registered customers of the SMSAPI portal. We do not charge for the sender IDs. Please note, that in some countries, though, authorities might charge for registering an SMS sender name.
Login into the Customer Portal and navigate to the Sender names tab in the SMS messages section. If your desired name is not listed below, add it! Confirm the right to use the desired name and wait for the verification.
Sender name verification
Due to security concerns, we do our best to confirm the credibility of all sender IDs. Consequently, we will confirm them only during the working hours of our office (Monday – Friday, 08-17 CET). To speed up the approval and registration process, we highly recommend choosing a sender name that relates directly to your company name. If you are sending SMS messages for your clients, you should provide a statement from them in which they agree to use their company names as the SMS sender names.
Sender ID restrictions
Not all countries alllow text messages with brand name instead of a phone number. Authorities approving sender names in certain countries will also ask to provide examples of text messages meant to be sent from a given sender name. Please also keep in mind that in certain cases, it might take up to one month to approve your sender ID, so plan ahead. As per usual, mail or chat with your consultant for more details.
There are also restrictions regarding the content of SMS messages with sender ID, e.g. cryptocurrencies-related messages are prohibited in Russia and China. In the USA, they can only be used to send codes.
If you are unsure about the local regulation, we strongly recommend consulting your account manager before applying for the sender ID. Remember that different countries or even mobile network operators have different rules.
How to choose the sender ID?
A sender ID should consist of the brand name. Alternatively, it can describe the purpose of the communication. The reasons to be specific about your identity and purpose are self-explanatory. It's a best practice to be unambiguous, so your recipients identify the message as trustworthy.
Business messages incoming from unknown numbers might be frowned upon or even flagged as suspicious, and therefore left unread. This risk is greatly reduced with the business name clearly visible and verified.
The GSM standard sets strict rules regarding names replacing telephone numbers. Firstly, there's a set of available characters. Secondly, it must be longer than three and shorter or equal to 11 characters. SMS sender name shorter thank three characters might be displayed incorretly on Apple devices.
Text messaging ID: supported characters and symbols
lowercase: a-z
capitals: A-Z
digits: 0-9
signs: . & @ – + _ ! %
space
Start sending branded messages
Ready to learn more about sender ID options? Create and verify your free business account!