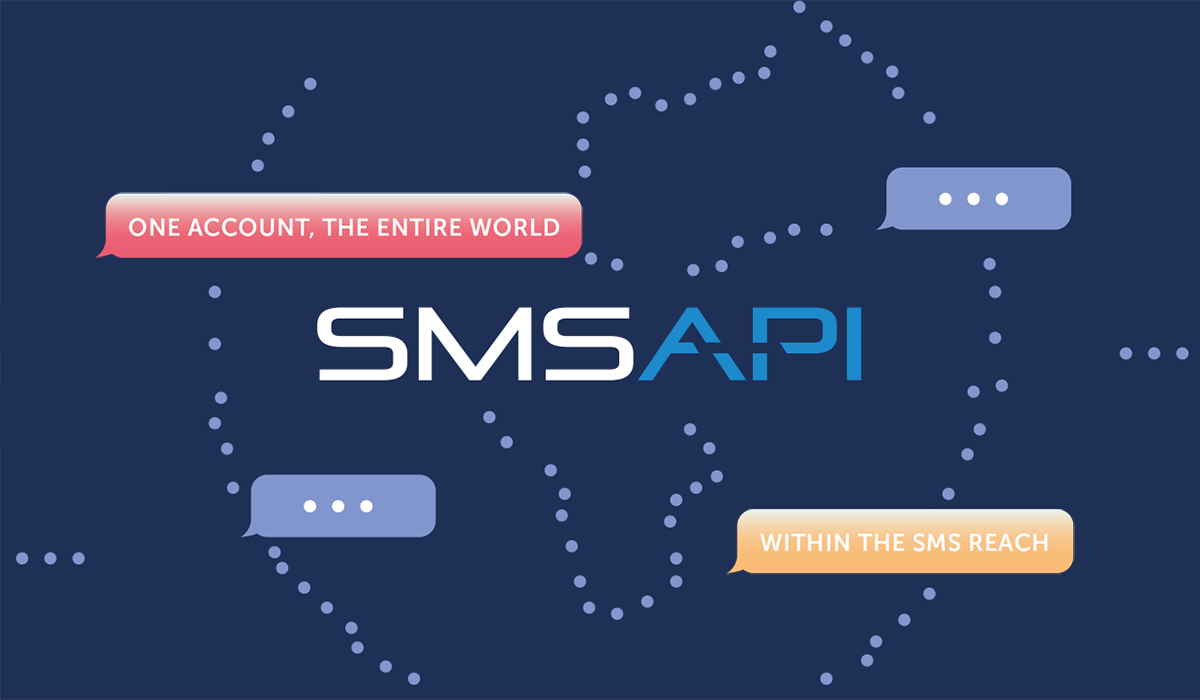 Table of Contents
SMSAPI is global SMS provider for companies and public sector. Read the infographic about international SMS messaging.
Are you wondering how to send SMS internationally? You're in the right place, then. With SMS API, you will communicate all around the world. We've even put together an infographic presenting the range of our capabilities. Find out all about international SMS messaging gateway and the benefits of direct agreements with GSM operators.
SMSAPI is a global SMS gateway for companies. A single account allows you to send SMS to (almost) every country in the world, e.g. Germany, Spain, Egypt, China or Cuba. You need clients' phone numbers with the correct country codes. The system will do the rest: it will deliver the SMS regardless of where the subscriber's phone is currently located.
How much does it cost to send an SMS abroad?
You can find the current prices for international messages in the SMSAPI Pricing. We keep the list up-to-date to ensure competitive rates in all countries. Test international SMS sending – create a free account for companies.
The SMSAPI service works in almost every country. It means you can send SMS outside the EU without trouble and therefore communicate with virtually all mobile phone users worldwide. Exceptions are North Korea and several dependent territories. Sounds pretty solid, wouldn't you agree?
Infographic: global SMS gateway for companies

We send SMS messages to 194 countries
SMSAPI has 8,500 active customers globally: small, micro-businesses, startups, companies and massive corporations worldwide. There are three primary use cases of business A2P messaging: customer support SMS notifications, SMS marketing and 2FA authorization. Above are some selected SMS campaigns run by businesses from around the globe.
Remember that certain countries, like the Czech Republic, Romania, Canada and the USA, require additional paperwork or fees, e.g. A2P 10DLC (10-digit long code) in the United States. Reach out to your consultant to review and fulfil all requirements before you start.
We do not use grey routing
Distance becomes irrelevant in SMS campaigns. Sending a message to Australia does not take much longer than delivering it to a nearby city. It's because we've secured the best operator connections available. For this reason, with the SMSAPI platform, you can send an international SMS directly to the recipient without unnecessary intermediaries or formalities.
What is grey routing?
Grey routing redirects SMS messages multiple times through free connections to avoid operator fees. It's a simplification, we know, but it conveys the general idea. In SMSAPI, we do not use grey routing because we don't have to. We rely on solid, proven and fully legal connections.
An example of grey routing: an SMS is sent from the gateway to German numbers, but instead of reaching the customers directly, it first goes through several Asian countries and only then lands in the inboxes. Due to the agreements between the operators, such connections are entirely free or much cheaper than standard ones to enable exchanging messages and information within a network while subscribers are abroad.
For obvious reasons, network operators try to stop companies that use grey routing. While SMS messaging is cheaper, it carries substantial risk. The content and recipient number can get into the wrong hands, and third-party companies may change the message and sender name.
Direct connections guaranteed
In SMSAPI, your messages go straight to your destination, no unnecessary, shady middlemen involved. This, of course, impacts the SMS price: it may be higher than that of less professional providers, but you can always be sure that your messages are safe.
What are the business benefits of direct connections with GSM operators?
The data are safe: the content and recipient numbers are not read (or changed) by unauthorized entities.
The SMS sender name does not get changed.
The messages reach their target as soon as possible.
The SMS is sent in compliance with local law.
If you use another company that provides mobile communication tools and your SMS messages arrive: substantially delayed, modified or with different sender names, you can suspect grey routing. Stay safe!
A new feature in the Customer Portal: Country filtering
Check out the newest addition to our SMS gateway: Country filtering. The feature will protect you from the unplanned costs of SMS messaging. More on how and why to use SMS destination filtering:
We are a part of the international LINK Mobility Group
Membership in the LINK Mobility group allows us to provide higher security standards. Your data will not leak outside, unlike with communication service aggregators. Everything stays within SMSAPI and the LINK group.
When we joined LINK Mobility in 2017, we gained one more advantage: we get access to the latest technologies faster than our competition, for example, RCS, WhatsApp Business API, and Viber.
And while we're on it, our team can draw from the shared knowledge and skill pool of all companies belonging to the group. It allows us to offer solutions better suited for the circumstances in each country or region and safer message delivery routes.
Do you know the SMSAPI website and Customer Panel are available in 7 languages? We have recently opened branches in Sweden and Bulgaria. And that's still not the end of our expansion – more details soon.
International SMS messaging is safe and GDPR-compliant
Years of experience and the fact that we've built our position from scratch help us maintain the highest service level and ensure security for our business partners. An additional argument for SMSAPI is the ISO 27001 certificate. We received it in 2021 and validated it the following year. It guarantees that our infrastructure and staff meet the highest data protection standards.
Read more on SMSAPI ISO certification
To conclude the list of things that make us stand out, I left the most obvious, yet at the same time the most important one: we comply with the GDPR and local law. Our data protection officer ensures that SMSAPI and other LINK companies keep all procedures in order. We also strive to provide education on subjects related to data protection and good practices in mobile communications.
Things to remember about
First, a piece of advice can save you a lot of frustration: always check the country code. Otherwise, you might end up delivering messages to the wrong subscribers.
If you're planning a larger campaign to a given destination, you can count on better rates than those in our price list. Don't hesitate to contact our consultant if you send more than 5,000 messages monthly.
In addition, SMSAPI also offers 2Way SMS for companies. Legal and technological conditions, unfortunately, restrict us, so two-way SMS communication is only available in selected countries. Receiving SMS from customers is not subject to any additional fees.
Some tools, such as short and long reception numbers or sender names, may not work everywhere. So, before you proceed with the global SMS campaign, I strongly encourage you to contact your consultants – I'm sure they'll be able to suggest the best solution.
SMSAPI is a global SMS messaging provider
Create a free test account with SMS for a start, and check out the global SMS API provider.
Check other useful infographics