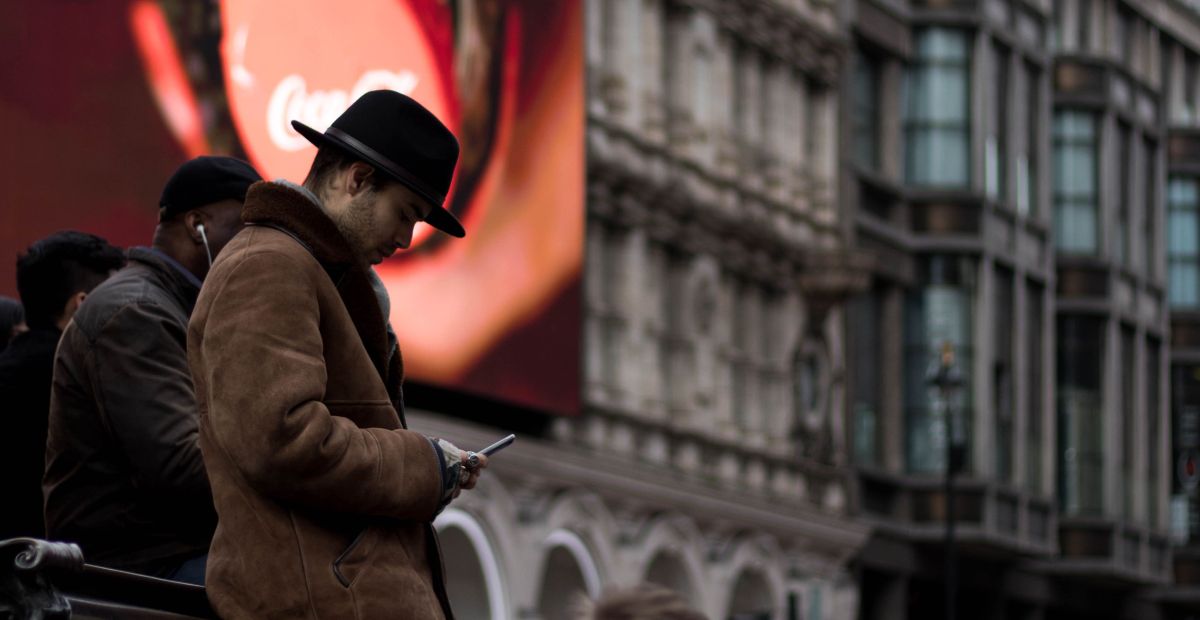 Table of Contents
The usage of mobile devices has seen a steady rise during the past years, and that trend doesn't seem to stop: it is predicted that nearly 72% of people will use their smartphones to access the internet by 2025. This represents huge opportunities for marketers around the world, who can, through the right tools and strategies, harness the power of mobile marketing to attract the attention of the audience, meet customers where they are comfortable, and grow their brands. In this article, we'll learn what mobile marketing is, and what are some key mobile marketing strategies you can use to benefit your business. 
What is Mobile Marketing?
In its most basic definition, mobile marketing is any promotional strategy that reaches its customers on their mobile devices, such as tablets and smartphones. Mobile marketers leverage the power of modern technology to reach their customers with the most relevant and targeted promotional deals in the platform most comfortable for them.
Mobile marketing strategies include MMS and SMS marketing, geotargeting, apps, to name a few. Depending on the campaign, it can target the audience by both their behaviour and location. 
It is an affordable way for businesses to reach their audience on devices the customers often use and get most of their information from, and if implemented correctly, can help you improve conversion rates and boost sales.
It is an affordable way for businesses to reach their audience on devices the customers often use and get most of their information from, and if implemented correctly, can help you improve conversion rates and boost sales. You could sell goods online or run a local bakery; it helps connect with audiences in almost all niches.
6 Mobile Marketing Strategies For Business Growth
1. SMS Marketing
Known also as text marketing or text message marketing, SMS marketing has been around for quite some time. And because 98% of people open and read their text messages, SMS marketing is also a marketing strategy that works. It is an effective way to reach your customers directly in their text messages with sales announcements, coupon codes, and other promotional offers they might be interested in.
As with every other marketing tactic, you need a clear and actionable strategy. Without it, you'll be shooting in the dark hoping to land a sale. Here are a few things to keep in mind to maximize your SMS marketing results.
Remember that SMS marketing is a permission-based strategy, and you can't just send texts to just anyone;
Know your customers, understand the deals and offers they are interested in, what they want to hear from you, to improve customer experience;
Formulate your message in 160 symbols;
Include a call to action;
Use tools to measure the results of your campaign.
A well-thought-out SMS campaign strategy can be a key part of your efforts to increase sales. However, avoid using it too often so as not to come across as spammy. Use this strategy only for your most important campaigns.
2. Social Media E-commerce
As online shopping grows, social media platforms like Facebook family apps have introduced tools that allow customers to shop directly in the app. And as these social media eCommerce tools grow and improve, it is becoming clear that they are here to stay. As of 2020, 43% of US Internet users have bought something online through a social media app, and the number continues to grow. 
So, how do social media stories work? Apps like Facebook and Instagram allow you to create a "Shop" directly on your page, with the list of offered products, their price, details, reviews, and whatnot. People can visit your shop, check out the products, add them to their cards, and purchase them at the checkout point without leaving the app. On Instagram, shoppable posts are also added to the main feed. Here is how some brands integrate shoppable posts into their Instagram feed aesthetics: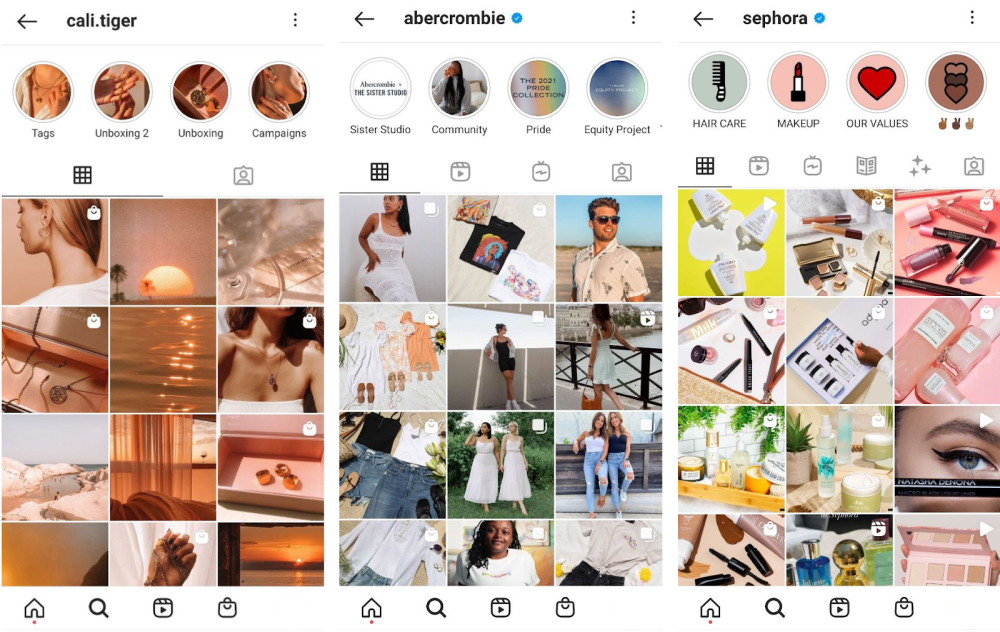 Using this mobile marketing strategy is a great way to increase sales. However, keep in mind that your brand already needs to have a social media presence and should take security into consideration too. Here is a simple Instagram security guide for businesses of all sizes.
3. Location-Based Marketing
Location-based marketing is another effective mobile marketing strategy that can be beneficial especially for small businesses or brands offering local services. Using tools such as geotargeting or geofencing to send localized and targeted offers to smartphone users.
Proximity marketing is a form of location-based marketing. It allows you to detect people using short-range signals who are located close to you and send them your promotional offers. Beaconing, for example, is a strategy that uses Bluetooth for this purpose.
4. Mobile-Friendly Website And Content
The largest search engine in the world, Google, has switched to mobile-first indexing in 2020. This means that brands can no longer afford to build a website only for desktop and treat mobile as a second thought. Ensuring that your website is mobile-friendly is now a crucial step towards the success of your brand. However, it's not only a customer preference: there are many other reasons you should implement a mobile-friendly approach when creating your website. Here are some of them:
Mobile-friendly websites rank better – The almighty Google knows that people are online mostly on their mobile devices, so it prioritizes mobile-friendly websites and content to make sure it provides the most satisfactory results. Optimizing your content, website and logo design will ensure more traffic as your website will rank higher in search results.
You can connect with your audience easier – As a rule, websites optimized for mobile allow the customers to connect with the company easier, with just one or two taps. 
Stay in the competition – Brands are understanding the importance of being mobile-friendly, so there is a high chance your competition is switching to mobile-first. To make sure you stay competitive, your website should also be optimized for mobile.
How to make your website mobile-friendly?
Make your website responsive and decrease the loading time as much as you can.
Pay attention to the buttons: the design, location, size, to make finding and using them more comfortable. People shouldn't have to zoom in just to navigate your website.
Use large and readable fonts, as the mobile screen size is small.
Avoid using flash, as it can slow down your website significantly.
Compress the images to fasten the loading time.
As more than half of people browse the Internet using their mobile devices, having a mobile-friendly website is a working way to ensure a pleasant customer experience for your target audience and make sure that they come back.
5. In-app Support
Customer experience is and always has been one of the pillars of your brand success. The way you interact with your customers has the power to make or break your business.
In a world where everyone is connected, it's crucial for brands to be able to meet their clients and connect with them wherever is convenient for them. Using in-app support helps your brand get one step closer to this goal.
If put simply, in-app support is the support service brands provide right in their apps, without the customers needing to leave the app and use another means of communication. As AI Chatbots are becoming increasingly common, and the technology improves, in-app support turns into one of the most affordable ways of customer support. They ensure 24/7 support right in the application, which makes it easier for the customers to have their issues solved. This, in its turn, contributes to customer satisfaction and establishes trust towards the brand.
6. Mobile Video
Among the many trends that came around recently, video is one of the most prominent ones. Video content has seen an incredible rise, and currently, 60% of businesses use videos for marketing purposes. As the consumption of video content grows, it's safe to say that videos are coming to dominate the digital world. 
This increase in video consumption and the fact that the world is going mobile has resulted in the mobile video increase: 98% of smartphone-owning millennials report watching videos on their smartphone daily. This presents vast opportunities for brand marketers.
Here are a few things to keep in mind when creating a mobile video:
Think mobile – Brands can no longer allow people to think of mobile as "second-screen." Whenever you are creating a video, it should be optimized for the mobile: larger fonts, more vibrant graphics. If you are embedding the videos from YouTube or other hosting platforms on your website, make sure to create a mobile-optimized YouTube thumbnail that is clear and readable.

Keep them short – Especially if you are creating videos for social media channels, try to keep your videos as short as possible. People are becoming impatient and are getting used to instant satisfaction, so a 10-minute video with a long, slow introduction is not the best choice for mobile. Don't say 3 words if you can say 2.

Ensure fast loading – Coming back to instant satisfaction: your videos should have a short load time. Make sure the platform you are hosting your video on has a mobile-optimized player, so the video doesn't take too long to load.

Video is a tried-and-tested marketing strategy that works. And today, it is more accessible than ever. Tools such as online video makers allow you to easily create and edit videos in several minutes, without having to go through an expensive shooting process.
Wrapping Up
As people spend more and more time on mobile devices, mobile marketing is a strategy you can't afford to miss out on. It's a working way to reach your customers through the right channels with a relevant offer.

Implementing the strategies discussed above will help you promote your brand, drive traffic to your website, and boost sales. Spend some time to develop a well-thought-out and clear marketing strategy to ensure the success of your next marketing campaign. Good luck!
Photo by Zoe Holling on Unsplash