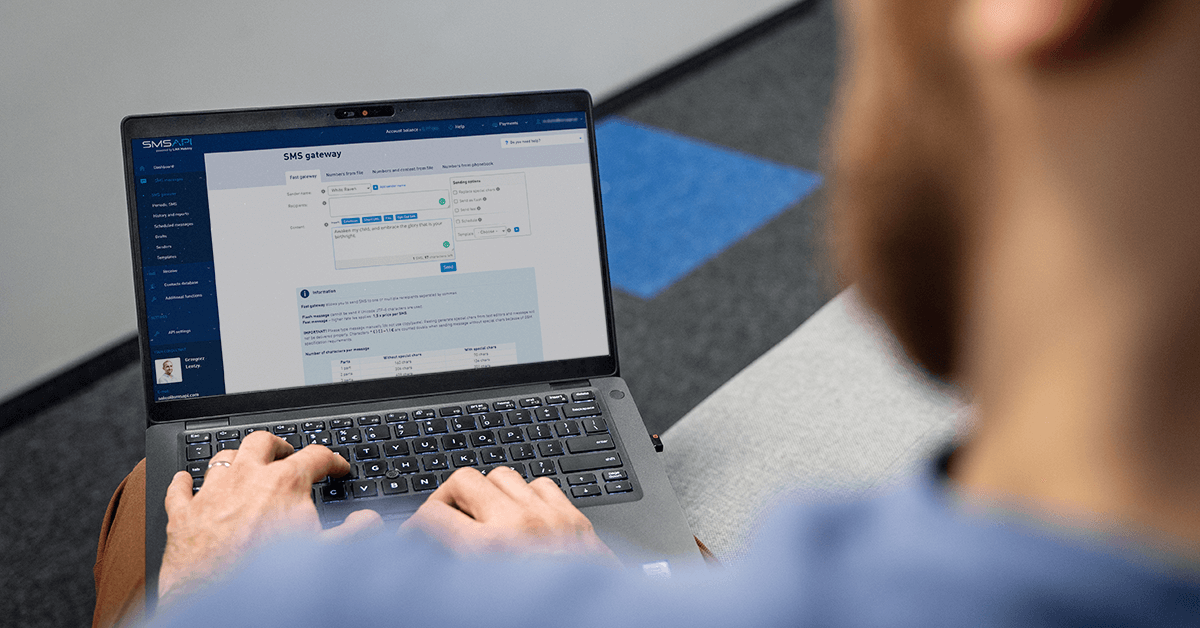 Table of Contents
Discover SMS gateway for companies, startups and public sector. See how you can use SMSAPI to boost your sales and keep the conversations going.
Professional text messaging platform is a communication tool for companies to reach their customers on mobile devices. The SMSAPI bulk SMS system allows sending text messages to all GSM operators around the world.
SMS marketing features like branded SMS, receive SMS online, open SMS API, and link shortener help to engage and reach customers legally and in a GDPR-compliant way. Discover SMSAPI – a professional global A2P provider for companies.
Do I have to pay for an SMS gateway?
Although they are still available, free text messaging gateways are becoming obsolete and slowly disappear. Bulk SMS messages to all operators have been limited to business providers with established position and credibility.
Commercial SMS gateway – pricing
SMSAPI is a professional SMS gateway. We send bulk SMS globally and fast. The account is free, so go ahead and test it away!
If you are looking for a way to send SMS online – look no further. SMSAPI is a commercial texting gateway with a global reach. Our services are dedicated to companies, startups, the public sector, NGOs and brands. This business-only approach allows us to provide the highest quality, privacy, and security for our customers.
How to configure the SMS marketing services? Video tutorial
Business SMS Gateway – fundamentals
Business SMS gateway is an online solution (SaaS) that provides companies with access to bulk SMS. Commercial SMS platform comes with a multitude of other tools, like SMS campaign management system, 2-Way SMS numbers, integrations that, for example, allow to send SMS notifications in e-commerce or services. Above that, SMSAPI has a set of invaluable, GDPR-compliant tools that make collecting contacts for your customer database a breeze.
All industries benefit from mobile communication and SMS marketing. Rocket high open rate, quick read time, and exceptionally high CTR (click-thru-rate) make text messaging a unique tool in marketers hands. One of the most significant advantages of SMS is offline availability. You don't have to buy the newest smartphone. A text will reach even the oldest devices with very low network coverage. SMS is a low entry point standard, thus suitable for users of all ages and skills.
Access to open API (application programming interface) lets you connect SMS gateway with all systems, e.g., e-commerce, marketing automation or CRM. This makes the list of possible applications of SMS communication even longer. Such connections, called integrations, are ready-to-use fragments of code or plugins that are usually easy to implement. You just need to copy and paste or install an extension in the desired system in most cases.
SMS gateway for companies – applications and popular tools
Text messages accompany clients from the start until the last step of the customer journey (and even further!). SMS helps to generate leads, boost sales, support customers and even authorize data and transactions. Here's a shortlist of SMS marketing tools that will make your communication consistent and profitable. As a side note, you can quickly expand it by using open API and programming libraries.
Three basic applications of text messaging for busines
Bulk SMS online
The advantages of bulk SMS are well-documented. Brands use it around the globe to run cost-effective mobile marketing ranging from lead acquisitions, remarketing, and cross-sale campaigns. Furthermore, it is a go-to channel for notifications, authorization and other customer service processes.
Our SMS service has global coverage. Bulk SMS campaigns are available from a web-based Customer Portal, mobile app (for iOS and Android) and linked system (via API). The delivery can be instantaneous or delayed.
A properly configurated client database is a key to high conversion text message campaigns. Additionally, values like name, address or favourite product category let you personalize the content. This will help you to prepare better targeted communication.
Customer database for SMS communication
The database is an essential part of your SMS marketing. According to GDPR, it should be created and managed with respect to receivers' privacy. What it means is that before sending messages, you must acquire voluntary consent (opt-in) from each client. We equip you with tools that will make it easier and quicker.
Read more about GDPR in SMS marketing
The SMS Newsletter widget is a basic yet powerful solution for consent gathering. This deceptively simple tool has been designed especially for this purpose by our team of developers. One of its many advantages is the ease of customization. You can freely adjust it for almost any layout and colour scheme. Effortlessly edit all elements of the form in the SMSAPI Customer Portal. Lastly, its installation is equally straightforward – just copy and paste the code on your website. You can even use it in retail by placing a tablet with SMS Newsletter near the checkout.
There are any ways of collecting consents to SMS communication: 2-Way SMS numbers, pen and paper forms or built-in solutions of CRM, e-commerce or marketing automation platforms. Pick the one that best suits your needs!
SMS Branding – text messages with a company name instead of a number
One of the essential tools of enterprise text messaging is SMS branding. Thanks to it, companies can replace telephone number with a brand name in recipients' inboxes. It's how companies can send SMS with a name.
How to replace a number with a Business name in a text message?
The SMS sender name format is specified by GSM standard. Only some alphanumeric characters are allowed in the sender field, and it's limited to 11 letters, numbers or symbols. Most special chars are not allowed.
Full list of characters allowed in SMS messages name field:
small letters: a-z (no local diacritics)
large letters: A-Z (no local diacritics)
numerals: 0-9
symbols: . & @ – + _ ! %
space
Local law and SMS messaging providers determine the availability of SMS branding in each country. The SMSAPI support team also verifies every sender name. We check for fraudulent claims that may danger the brand image and other sensitive topics, impersonations and other fraud attempts. We suggest using the SMS sender name similar to your company name. It'll make the verification process quicker.
Remember that your customers won't be able to reply to SMS messages sent with alphanumeric SMS sender names. If you'd like to receive text messages from your audience, there's always 2Way SMS communication. You can also set your phone number as a sender name!
Receive SMS online
Enterprise SMS messaging platform is more than a simple tool to send SMS from a computer. Among many other features, it allows you to receive SMS online. To get messages from your clients, you need an SMS receiving number available in two formats: long and short. Besides their lengths, they are different when it comes to recommended applications and local availability.
No additional fees for your customers
Your customers writing back to a 2-Way SMS number won't be charged extra. Regular GSM operators' fees apply.
Types of receiving SMS numbers (Virtual Mobile Number):
Long code is a standard length number (9 digits); it's most commonly used in printed media, during events, online and everywhere else where your audience has time to memorize or type in a long string of digits.
Short code is a 4-, 5-digits long number used mainly in a fast-moving environment, where you have only a moment to get through your message. That's why most brands use it for SMS campaigns in radio, TV and outdoor media.
Messages sent by your clients can be opened and read in an online SMS gateway or any other integrated system. You have to configure a callback address to transfer and receive messages between systems, though.
Short link in SMS messaging
The 160 characters of text message might be a limitation, especially when you want to go beyond simple text and send, for example, graphics, video, sound files or simply longer messages. Although SMS works independently of an internet connection, they can direct your clients to online materials. You just need to add a URL address to the website or file.

Compared to e-mail campaigns, bulk SMS marketing campaigns have a higher open rate and shorter read time. It also translates to higher CTR (click-thru-rate) of links included in text messages. Conversion of an SMS campaign is undeniably higher than that of the beforementioned mailing. Still, it's hard to compare these two mediums since both serve different purposes and have other, yet sometimes similar, applications.
If you want to get the most from the SMS campaign, it's best to prepare a URL address. Pasting a long link looks unprofessional, take a lot of 160-character quota and most importantly, lower text message effectiveness. It's especially true with complex URLs with parameters. A well-placed link drive sales for small businesses and large corporations alike.
That's why it's best to shorten your links when sending SMS to clients. Many services will help you make links shorter, but I advise using one integrated with your commercial SMS gateway. At SMSAPI, we have the cut.li URL shortener. The short link will look like this: cut.li/suffix (this one will lead you to our sign up page), where suffix is added randomly or set individually by SMS sender. Our link shortener is free of charge and available to all verified accounts.
Short URL in a company domain
We have also created a new solution that allows companies to create short links in their domain. Contact us if you'd like to know more.
SMS campaign effectiveness analysis
Short links are directly linked to the other important subject. They are the easiest way to measure the effectiveness of your bulk SMS campaigns. Since there is no technical way to measure deliverability and open rate, so links are essential for the analysis. All other data and statistics can be sourced to GSM operators and SMS gateway providers.
There're at least two methods to check the results of SMS marketing. For starters, you can monitor the click counter of the cut.li shortener. It's, of course, not so precise, as it only provides you with basic knowledge of the number of clicks, their date and time, device type and its operating system. Luckily for you, there's a way to measure mobile marketing results directly in Google Analytics (or a similar tool).
And it's super easy! All you have to do is add the UTM parameters to the short link. This way, each click will be visible and trackable in Google Analytics. You'll see how many of your clients clicked the links, and you will be able to see their session on your website. This data allows you to plan your SMS campaigns better using the information regarding website traffic.
With the right tools, adding UTM parameters to addresses is quick. I recommend using the free Campaign URL Builder from Google. Paste the generated code at the end of the URL and shorten it with cut.li.
SMS campaign advanced analytics
Reports and delivery history
Every professional SMS gateway has a reporting system that helps to track single and bulk SMS campaigns. At SMSPAI, it's done with a couple of clicks in the Customer Portal. Just pick the date range and campaign type. After a while, our system will create a PDF file with all useful statistics about account activity.
Open API and integrations
At the same time, the most important feature of a commercial SMS gateway is access to API. SMS can be sent from a web browser via Customer Portal or from an integrated system. Application Programming Interface (or API in short) allows systems and applications to exchange data, requests and commands.
Using API might be daunting because it can be a complex and tedious task, but you need very little knowledge to take advantage of some of its benefits. It goes without saying, more advanced solutions will require extensive know-how. I suggest reading the A2P gateway developer guide for complete beginners to walk you through the most basic applications.
Global enterprise SMS gateway
One last thing, although based in Poland, SMSAPI provides global SMS service. We guarantee deliveries to almost every GSM operator around the globe, thanks to direct agreements. Furthermore, we offer high deliverability in the shortest possible time. SMSAPI also has high bandwidth, exceptionally low downtime, years of experience and uncompromising security standards.
Create a free test account
Free account
Test SMS package
Full technical and marketing support
Open SMS API
Detailed reporting
Tons of integrations