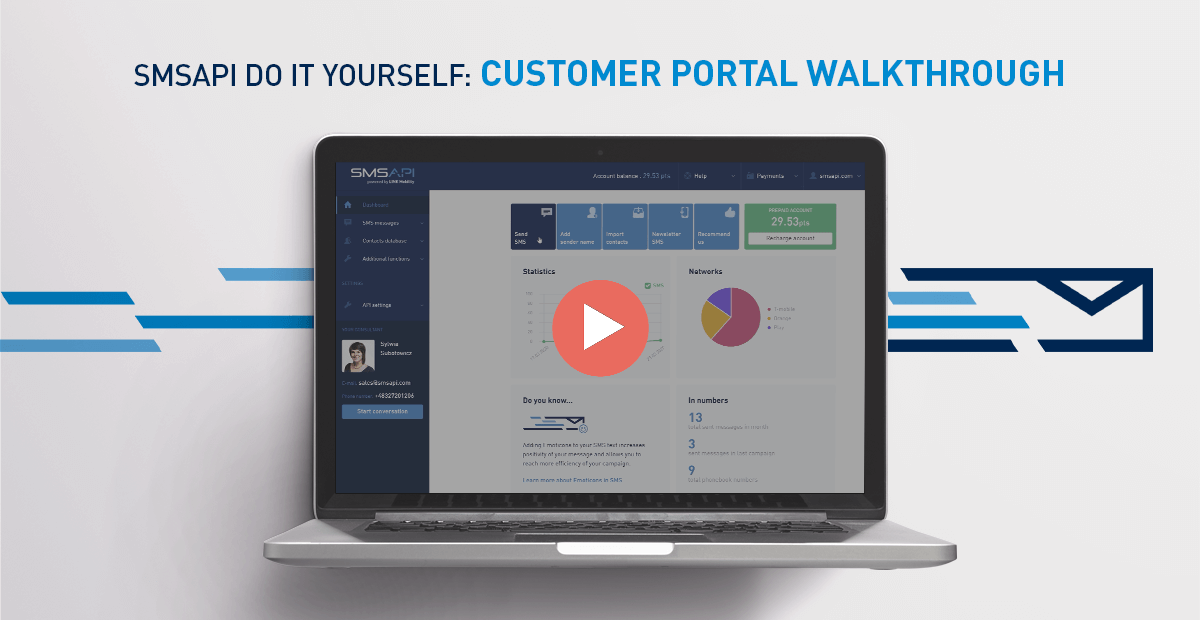 Welcome to the first episode of the SMSAPI Do It Yourself video tutorial. This series is a great way to start with SMS marketing and automated SMS notifications. Buckle up, and let's have a short walk through the SMSAPI Customer Portal.
Watch a quick Customer Portal walkthrough video
The Dashboard and main menu
The Dashboard view also has the number of points, main statistics broken down by day and destinations and the section "Do you know…".
The first view after logging in to the panel is a summary of account activity and shortcuts to the most frequently used functions: sending SMS, adding sender name, importing contacts, Newsletter SMS and partner program. The main functions of the SMSAPI Customer Portal are located in the column on the left.
SMS Messages section
SMS Messages section is a core of SMS gateway. It allows you to create content and send SMS campaigns to your database or imported contact files. This will be your most visited tab, so take a while and get familiar with it.
Here you can also check the history and reports, scheduled messages, add, view and edit drafts, add SMS sendernames and create or edit a message template for regular campaigns. Super usefull stuff.
Contact database section
The contacts database section allows you manage your clients data. Here you will add individual contacts, create and name groups of recipients, import a database from a file, and create custom fields.
This portal area also includes a list of numbers whose owners have unsubscribed from the database using an opt-out link and a list of recipients added to the blacklist. 
Additional functions section
Additional functions include tools supporting your activities in the area of SMS marketing:
Newsletter SMS widget dedicated for collecting recipient databases,
generating or importing discount codes,
checking the number's validity using the HLR,
checking the URL activity thanks to web monitor function,
More sections, API and account settings
Below are the sections with the main functions of the Customer Portal. You can find API settings for integrating the SMSAPI system with any software.
At the bottom of the column, there are direct contact details to the dedicated account manager and the button that immediately starts a chat with a consultant.
In the upper part of the SMSAPI Customer Portal, there is an account balance, help tab with quick access to API documentation, contact and the possibility of immediate reporting a system failure. Next to it is the Payments section, which makes it easy to top up your account, download invoices, and check the price list.
After clicking on the username in the upper right corner, you can edit account settings, take care of the security of your account, add or remove users, check statistics, join the partner program and log out.