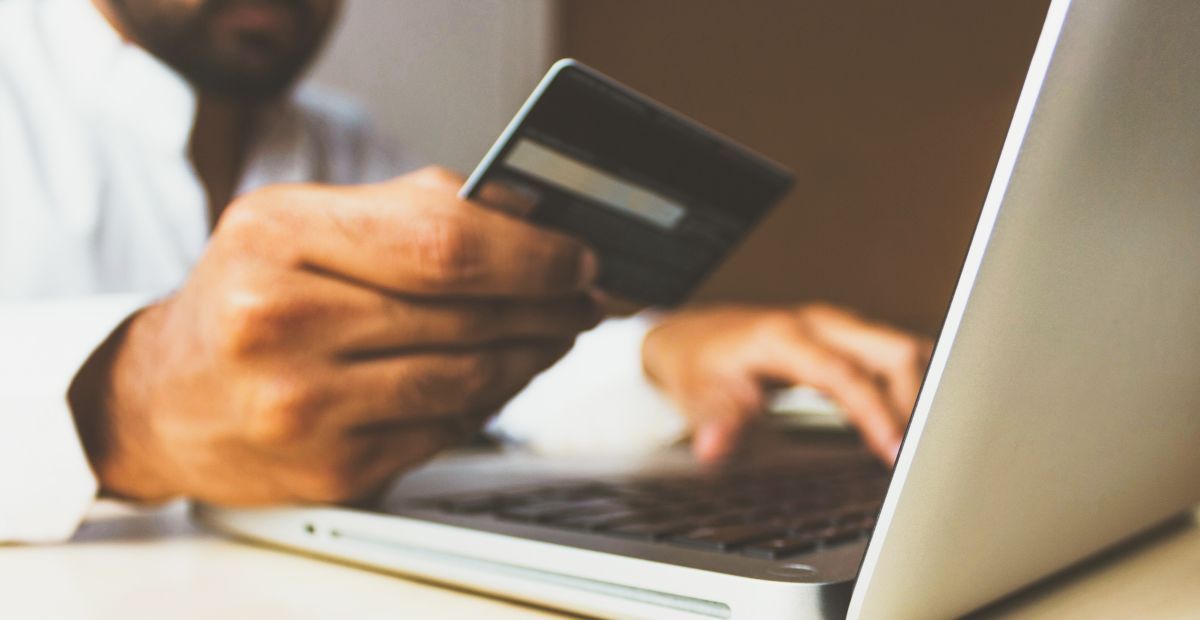 Table of Contents
Time passes by like crazy! In a few weeks from now, we will open the Christmas gifts. Though it sounds odd, colourful baubles, reindeers and "Last Christmas" totally came into play all around. The first sign of Christmas fever is Black Friday and Cyber Monday. Your clients expect the biggest sale of the year, and they are willing to spend more in your store!
When is Black Friday 2021?
The end of November and the beginning of December is the most suitable time to reach your potential customers, and what better time than Black Friday? If you have not prepared yourself yet – do it now, use our tips to create an effective SMS campaign. This year Black Friday is on 26 November. Cyber Monday is on 29 November.
Black Friday 2021 deals
The research we conducted in Poland shows that those willing to receive SMS with an offer are 20-29 years old, well-educated, and living in big cities. The most probable scenario is that they will be the most active customers between Black Friday and Cyber Monday and spend more than they used to. Do not be late and prepare yourself for the biggest sale of the year!
Know your audience
SMS is considered highly personal communication. Don't forget that high performance comes with a price: your messages should always be relevant and personalized! Remember about the timing.
1. Remember the past
To create an outstanding marketing campaign, you should first analyze sales data for the previous year's November and December. Define the keywords, slogans, types of content and products which performed the best. These questions will help build your Black Friday strategy around the most valuable resources and fit into your clients' preferences.
2. SMS nails it!
Marketing actions before Black Friday may pin your customers down if you prepare it properly. Besides the personalization of SMS, it is great to attract your recipients with humorous content and a tangible benefit that comes with your message.
Let's face it, a 2 or 5% discount will not make your customers extremely eager to buy much more than usually. Remember that Black Friday is the day of the biggest sales of the year, so think bigger!
To make yourself clear, offer the specific product or group of products and make it time-bounded, i.e. offer subject to availability or available only on Friday. The limited choice is a great stimulus to boost engagement and encourage your customers to visit the store or put more into the shopping basket.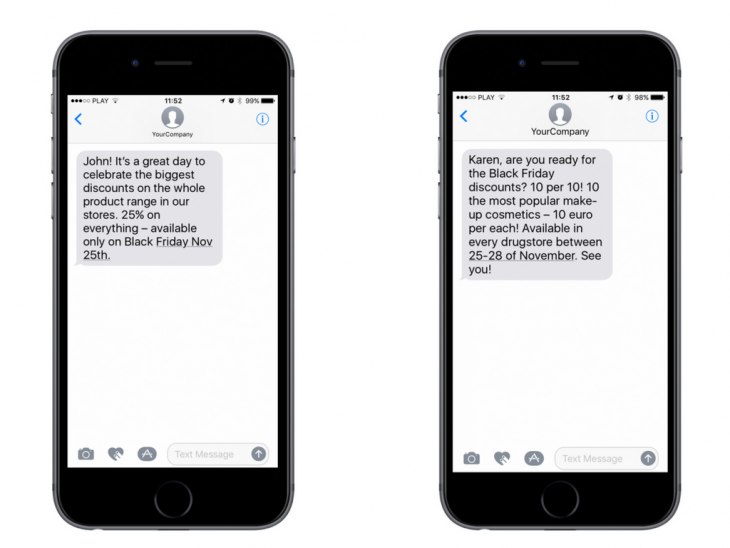 3. Added value is more than a discount
The day of the fantastic sales does not particularly mean lowering the price. If you cannot offer a 15% or more discount, you can suggest different yet appealing incentives: a free trial of the service, a discount code for the future, free shipping or a whitepaper.
Remember, the Black Friday campaign is risky because of the strong competitors. To make your customers use the discount, it should be well-planned and very tangible.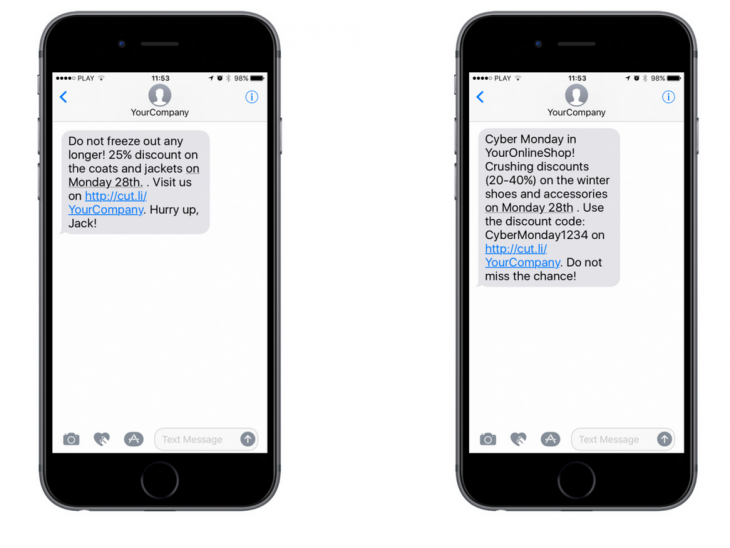 4. The synergy effects thanks to omnichannel
Your SMS campaign is not the only action you can take. To benefit more, you can combine more channels. The omnichannel strategy will be invaluable if it's coherent across all your marketing actions – the same message regardless of the channel. Choose one goal and be persistent about reaching it!
Besides SMS (usually read within 5 minutes after the delivery), e-mail marketing is also worth considering. Do not forget about the power of social media strategy, AdWords and outdoor actions.
To ensure the success of your plan, use Google Trends to define the most accurate and popular phrases and keywords. They might be the most effective weapon which makes your customers eager to buy the product.
5. One step ahead of your customers
Drawing the customers to your (stationary or online) shop is just the first step. Before they reach checkout with carts full of your products, you will have to care for them. There's no bigger turn off than a slow or unresponsive website. It's wise to lower the load time of your website before the shopping season starts.
Lastly, remember about customer support. Make sure you have enough staff and that they know exactly how to deal with stressful situations.
Photo by rupixen.com on Unsplash