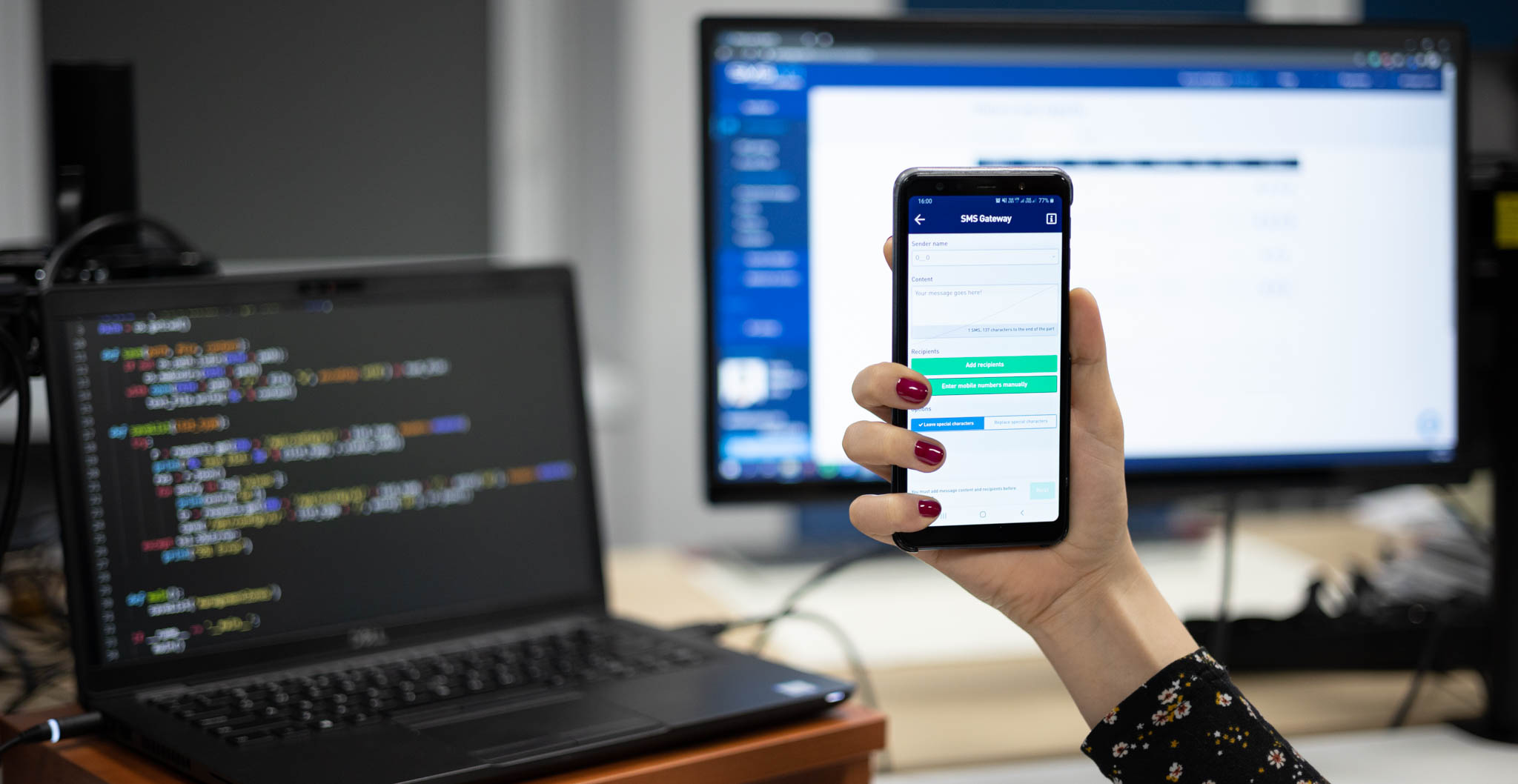 Table of Contents
Until recently, companies had two options for SMS marketing: an integration via API or a web-based interface. Did you know you can now send bulk SMS directly from your phone? The SMSAPI mobile app is a new way to manage and send SMS campaigns. Discover three ways to engage your customers on the mobile channel!
Together with our open API and web portal comes the new SMSAPI mobile app. Upgraded, refreshed and overall better SMS sending app is a long-awaited tool that makes SMS marketing and mobile communication even more convenient. What's more, you can finally send bulk SMS from a smartphone!
All three methods have their pros and cons, but they all work best in unison. Learn when to use the WWW version, system integration, and quick mobile access.
Download SMSAPI mobile app
SMSAPI mobile app is available free of charge on Google Play and App Store. You need a SMSAPI account, though. Please feel free to download it and leave us your feedback! 🙂
SMSAPI Android app download

SMSAPI iOS app download

1. SMSAPI app – mobile access to bulk SMS platform
The newest of the three, the SMSAPI mobile app, is a much-needed addition to the marketer toolkit. What is its main advantage? Quick and streamlined access to basic functionalities of our platform.
The app will come in handy in all urgent situations when you cannot log in to the system but have a smartphone. Think of it as an emergency solution that is always at your disposal.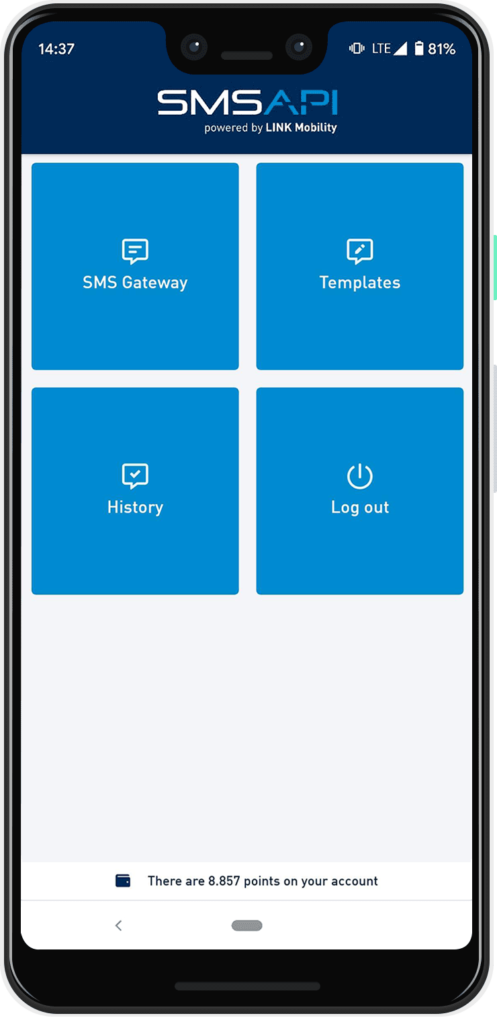 The quick mobile access to the bulk SMS platform will be beneficial during unexpected situations (for example, messaging related to the pandemic).
Even without a computer at hand, you will be able to communicate with your clients. Fire up the app, type in a message, choose a contact group, and press send. Done! Your customers will get timely notifications about important matters.
Furthermore, the SMSAPI app comes with more features than just sending bulk text messages. You can also check your balance, history of SMS campaigns, and manage SMS templates. Our IT department is working on adding more features, so stay tuned!
The SMSAPI SMS sending app is super easy to use. After the login, you will see a dashboard. There are four tiles: SMS Gateway, Templates, History, and Log out. At the bottom of the screen is your current balance displayed. Tap a tile to access selected functionality.
App feature: SMS Gateway
The SMS gateway works the same as a web-based portal, so you should feel at home. 😉 First, select your SMS sender name that allows you to send SMS with a name instead of a number.
How to send SMS with a company name?
If that is your first time sending SMS online, you will have to navigate to the SMSAPI Customer Portal to add and verify your SMS sender name.
The next step is SMS content – the message you're about to send to your customers. It's your time to shine but keep in mind three basic rules: Be precise, be direct and use a short URL. 🙂
At the bottom of the field is a counter. It displays the number of characters left. Each text message can have 160 letters, numbers and symbols, but some are counted differently. Putting even one special character (like Polish diacritics like ą, ę, ń) limits the quota to 70. The counter will notify you about any special character put in the message field.
How to send SMS longer than 160 characters?
If you'd like you can even send messages longer than 160 characters. It will be sent in parts, and you will have to pay for each normally, but the receiving customer will see them as one, long text message. This feature applies to all three methods and can be configured in the Customer Portal.
With the content ready, you can move to the next step – selecting recipients. You can choose contacts saved on your SMSAPI account (you can manage them in the web portal) or type in them manually. Remember to separate each number with a comma. Important: include country code at the beginning of each number.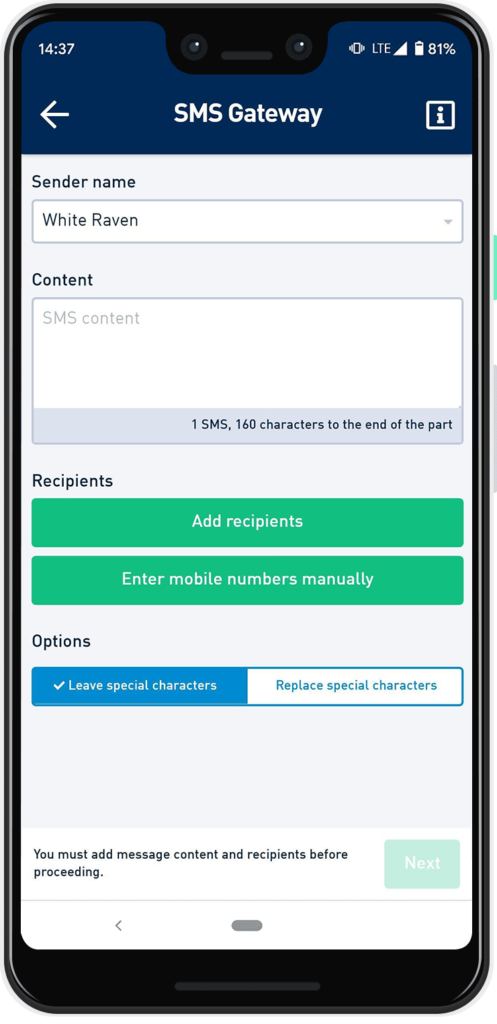 Below is one last option to select. You can choose whether to leave special characters or to replace them with standard versions. Although it might not sound significant, replacing them can save you a buck or two when sending larger campaigns. We advise replacing them at all times, to be sure and safe.
With all the steps done, you can tap next and move to the Summary screen. Here you will see all details about the message you are about to send. Pay attention to the Recipients and Number of messages, and Cost fields. If everything is in order, tap Send a message. You should see the Success screen! ?
App feature: message templates
Here you can view, edit, delete and add new message templates. They are handy, mainly in case of urgent or unexpected situations. It's best to prepare some predefined messages that you can use in emergencies. Take your time to plan your communication.
In this panel, you can also use the existing template to send a campaign – tap send. You will be redirected to SMS Gateway with the content field filled with the selected message. You can, of course, modify the template at any time.
App feature: history
The history panel provides you with a list of sent messages. They are divided into two categories: singles and bulk. By clicking a message, you can view details like status, cost, content and date. You can also filter sent messages by a client number.
2. SMSAPI web portal – your SMS marketing dashboard
A web-based portal (also called Customer Portal) is the most basic access point. It offers the broadest set of tools as well allows you to set up your account. The SMSAPI dashboard is the command centre where you configure all features. Here you will generate API tokens, set subaccounts, register SMS sender names and do so much more.
First, I would like to emphasize that we encourage clients to share their experience and feedback about our service. It helps us to set a course of the changes and better plan improvements to the SMSAPI platform.
Most users praise the Portal because of its ease of use, clarity, and intuitive navigation. But there's always room for improvement, so go ahead and send us your feedback! Furthermore, by the popular vote, the most important features are:
Rich media allows you to attach additional content to the message, e.g., files, videos, images, or PDFs. The feature is based on the cut.li short link tool. The short URL takes the recipient to desired files, site or any other material.
Opt-out system which automates subscription management for your customers. With a single click in the link included in the text message, they can remove their number from your future campaigns. The Unsubsc.me tool is a GDPR-compliant solution that greatly helps to send better, goal-oriented messages.
SMS notifications help organize time and reminders about upcoming payments, visits, or appointments. The automated SMS notifications allow companies to increase their revenue by ensuring that customers actually show on the appointed date, or avoid fees. They are also invaluable during crises when they help to inform about security or health threats.
If you need a walkthrough of the Portal, we recommend watching our screencast series SMSAPI Do it yourself to get all the details. In each episode, we go step-by-step through all features functionalities.
Watch SMSAPI Do it yourself series
You can always ask your consultant for more information or support. The chat is available during our working hours 08:00-17:00 GMT+1 (Monday-Friday). To contact us, press the chat button located in the lower right corner of the screen.
The basic configuration of the SMSAPI account
Your SMS marketing journey begins with the SMSAPI account registration, but you must do a couple of things before going any further. This basic configuration is done only once.
Let's start with the basics. The first thing you should do is complete the registration by providing your company details. They are crucial for all further steps, such as registering your company name to replace the number in sent messages.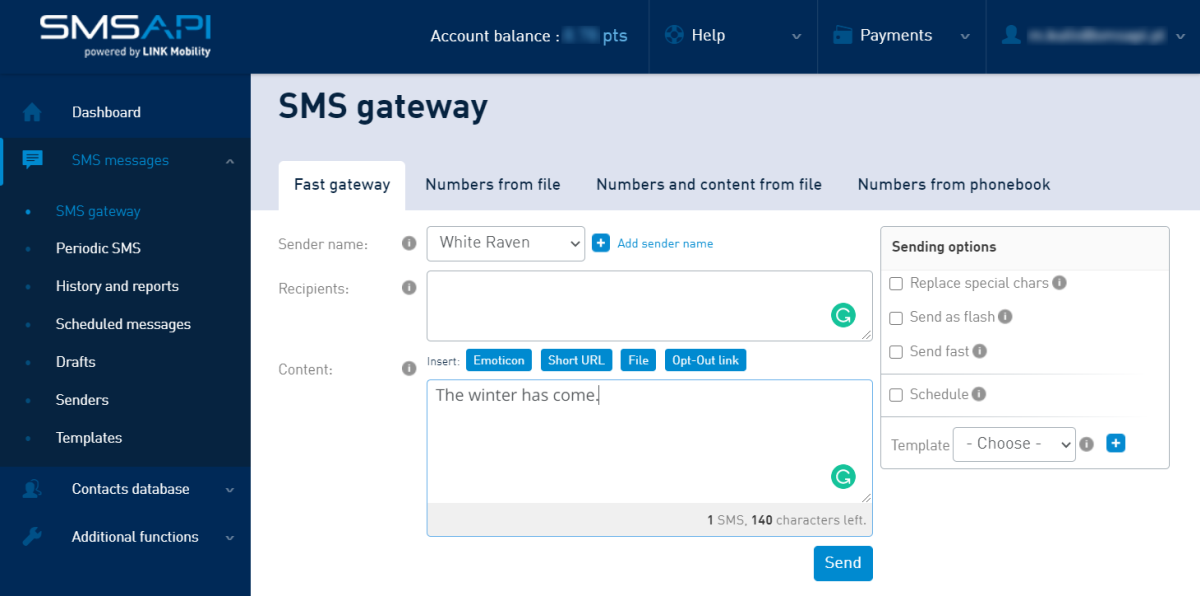 As a side note, if you want to test our platform, you can skip the step above, but note that some essential features will be locked. Due to security reasons, we need to verify your account before we let you send branded SMS or use links in text messages.
With the basic configuration done, you can start using all that we have to offer. And there are tons of features you can use!
How to receive SMS from clients?
If you are using Virtual Mobile Numbers, you can receive messages sent by your customers. All received SMS are stored and are accessible in the customer portal.
3. SMSAPI SMS API – integrate your system with SMS communication
If you are running an online business, you probably use some software, CRM, marketing automation or e-commerce platform. Your activities' sheer scale requires you to automate the communication, mainly transactional messaging, 2-factor authentication, and even marketing. Enter the SMS API!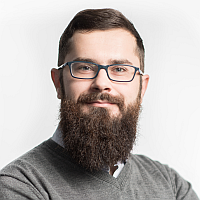 As suggested by our name, API is a fundamental part of the platform present since the beginning of SMSAPI. The interface is thoroughly described in the Documentation and Swagger tool. To make communication with API more straightforward, we have also prepared SMS API Libraries to help developers implement it in many popular programming languages.

To start sending SMS via API, you need (of course) to have an active SMSAPI account and the special key (token) required for authorization. Next is a test message with the obligatory "Hello world!" 🙂 With the first request done correctly, one can start thinking about a business scenario.

Through API, you can send SMS online and receive messages via 2-Way SMS solution (using callback mechanism), fetch delivery reports, manage contact database, and more. Security is a critical factor in our services, that's why all traffic is encrypted. We're using TLS 1.2, OAuth2 authorization tokens and provide an option to filter out and block IP addresses that can connect via API.

Jakub Kluz – Product Manager at SMSAPI
With the help of hundreds of ready-made integration, you can send text messages to your clients directly from your software. All you need is an API token (the one you will generate in the web portal) to automate your communication.
If you are looking for in-depth API resources, read the SMS API Essentials: