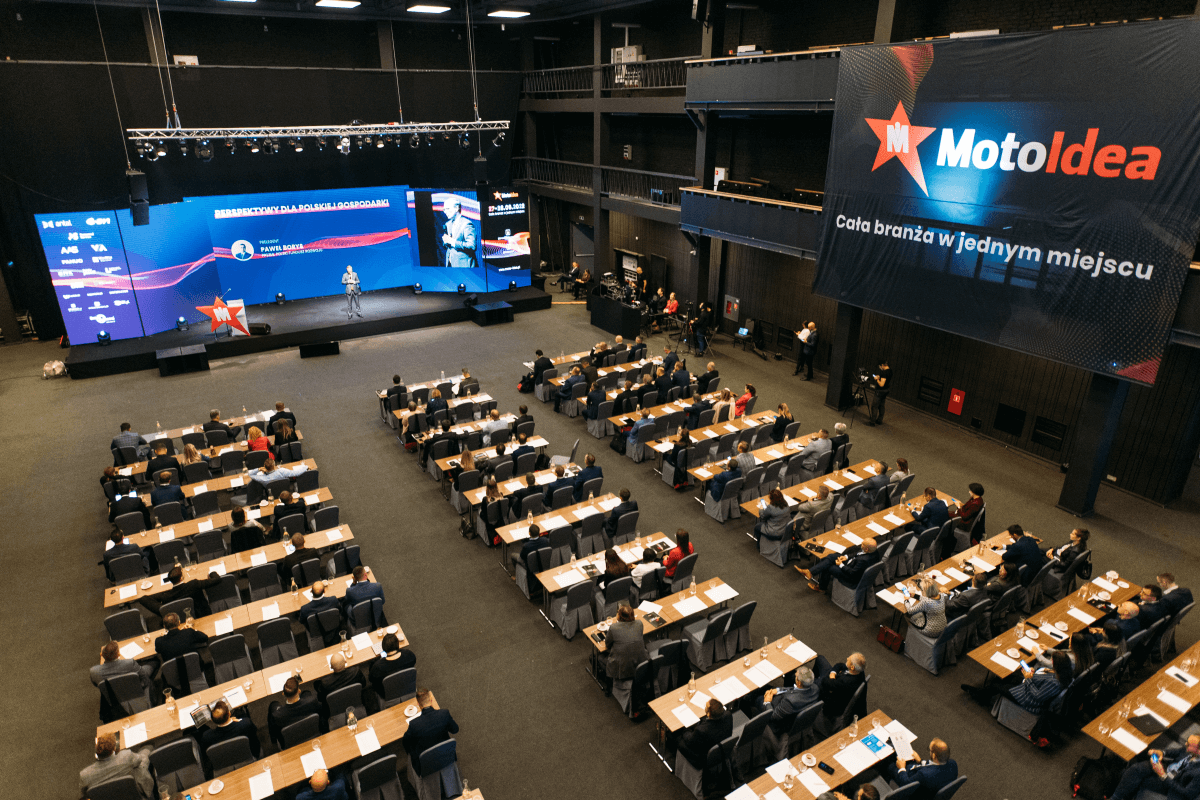 Table of Contents
Read the case study of unconventional challenges and innovative solutions: 2 Way SMS for live event.
Learn how the organizers of the 12th Moto Idea Conference approached communication during an event focused on managers from the automotive industry.
Moto Idea Conference
12th edition of the conference
September 27th and 28th, 2022
20 presentations
Four panel discussions
250 participants
The Moto Idea Conference stands as a vital gathering for representatives of the automotive sector, including manufacturers of passenger cars, parts and components suppliers, academics, and industry association representatives. Over a decade, Moto Idea has evolved into a recognizable platform that fosters community integration and has become an essential fixture on managers' calendars within the Polish automotive industry.
Why are mobile apps not a universal solution?
Mobile applications accompanying offline events have become a widely accepted standard. They offer a convenient and practical alternative to printed materials, providing agendas, venue plans, and other necessary information. Event apps also facilitate feedback collection, question submission, and lecture evaluations.
However, the app solution may not always align with the nature of every event. Certain audience groups may struggle to utilize such applications with equal ease. Factors contributing to this exclusion include physical limitations, technological constraints, user habits, and concerns over participants' digital privacy and security. Nevertheless, organizers are still tasked with conveying essential information, ensuring a smooth flow, and fostering a comfortable atmosphere.
Examples of communication during live events:
Greetings, and thanks for participating
Organizational updates:

directions and parking information
key dates and times
usage guidelines for amenities and attractions
event venue layout
menus and catering
agenda details
program changes

Networking opportunities
Interaction and engagement building
Performance and event evaluation
Feedback
Promotions and partner content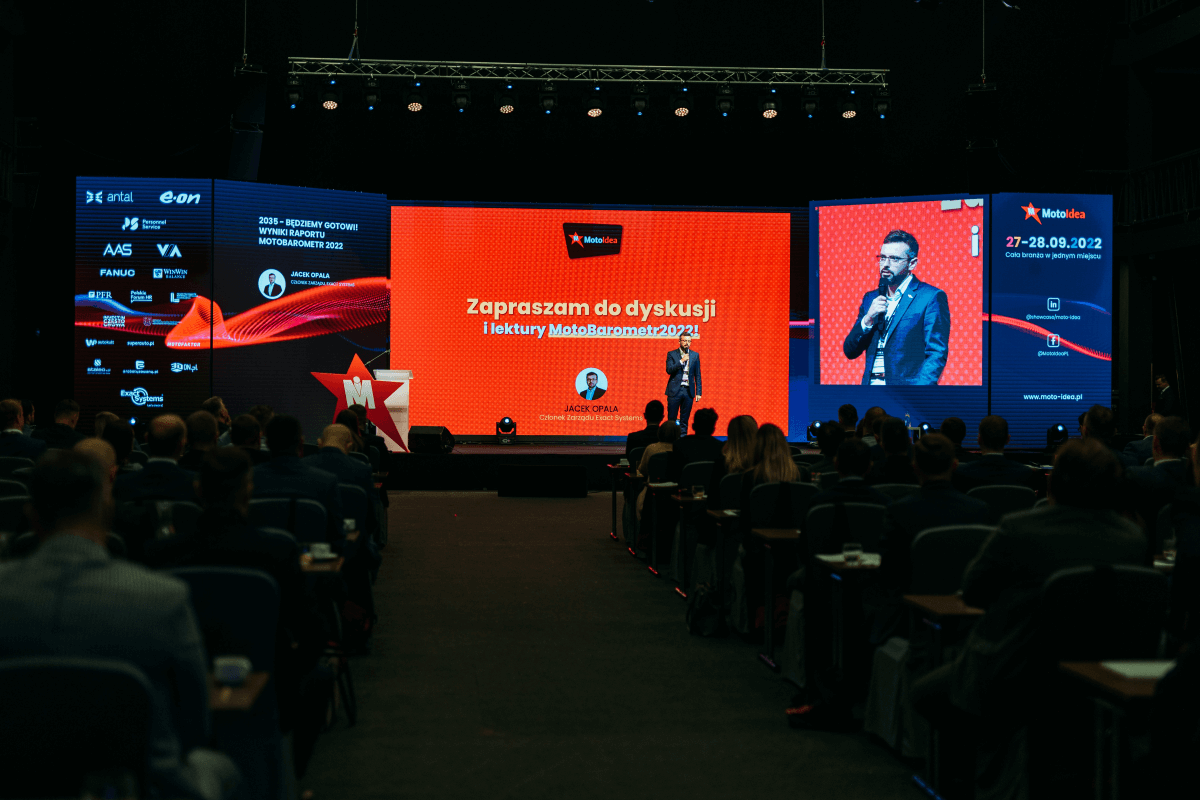 Moto Idea is a distinctive event
During the preparations for the 12th Moto Idea Conference, the organizers pondered the most effective means of reaching attendees on-site. Traditional event applications would not suffice, as the corporate phones of many guests were safeguarded against unauthorized installations. Safety considerations and the participants' accustomed behaviours thus ruled out commonly accepted solutions.
This year, our audience consists of 250 high-level management individuals. This group is relatively closed-off, primarily comprising individuals over thirty. Convincing them to install yet another app, especially on their work phones, is no easy task.

People, even those enthusiastic about attending industry events, have grown weary of new apps installed for the sake of a few hours. There's a sense of saturation because every conference brings a new system, interface, and permissions to grant. We needed a solution that would operate independently, based on familiar standards.

Robert Majer, Head of Marketing and Recruitment at Exact Systems
Therefore, the Moto Idea Conference organizers opted for an alternative approach. The entire mobile communication with participants during the event was facilitated through text messages sent via the SMSAPI platform. The SMS system fulfilled all the requirements and provided additional value through convenient and intuitive two-way communication.
Why SMS instead of traditional event apps?
Advantages of SMS over apps for in-person events
SMS messaging is more cost-effective compared to app development.
SMS implementation is quicker, requires less testing, and easier configuration.
Text messages can be received with weak signal strength or without an internet connection.
SMS works with international numbers as well.
Handling text messages is intuitive and familiar to users.
Sending and receiving text messages is a native function of every mobile phone.
SMS communication supports both sending and receiving messages from participants.
These considerations and the strong collaboration history between Exact Systems and SMSAPI tipped the scales in favour of SMS. Moreover, by acquiring a dedicated receiving number for the event, organizers could engage the audience in real time. This feature proved pivotal during dialogue-based presentations and audience feedback sessions.
In an age dominated by mobile apps, event organizers often opt for a dedicated application to streamline communication, provide event information, and facilitate networking. However, the Moto Idea Conference took a unique route by leveraging SMS for communication purposes. This decision was driven by several key factors.
Key factors for choosing SMS instead of an app
Accessibility and inclusivity – unlike apps, SMS is universally accessible. Attendees with varying phone types, including basic mobile phones, can seamlessly receive SMS updates.
Ease of participation – SMS eliminated the need for attendees to download, install, and familiarize themselves with a new app. Participants could instantly receive event updates, session reminders, and important announcements. This streamlined approach reduced barriers to engagement and encouraged broader participation.
Immediate and direct communication – SMS offers direct and real-time communication, allowing organizers to instantly deliver critical information, schedule changes, or emergency notifications. Unlike app notifications that might go unnoticed, SMS messages are more likely to be seen promptly, ensuring attendees stay informed and up-to-date.
Cost-effectiveness – developing, testing and maintaining a dedicated event app can be a significant investment. By leveraging SMS, the conference organizers could allocate their budget more efficiently, focusing on other aspects of the event's success while still maintaining effective communication.
Technical aspects of SMS messaging and receiving during the event
Companies rely on SMS gateways accessible through websites for customer messaging. The SMSAPI Customer Panel provides all essential features for planning SMS campaigns and even conducting simple surveys based on SMS reception.
However, more complex solutions involving data usage or variable sending conditions may require integration with external systems. Ready-made integrations, programming libraries, and an open SMS API interface are essential tools for programmers.
In this case, as well, the Exact Systems team once again exhibited a non-standard approach. The communication during the 12th Moto Idea edition was built on integrating the SMS system with SharePoint via Power Automate. The ease with which these tools were seamlessly integrated added to their advantages. Automation extended capabilities and streamlined essential processes.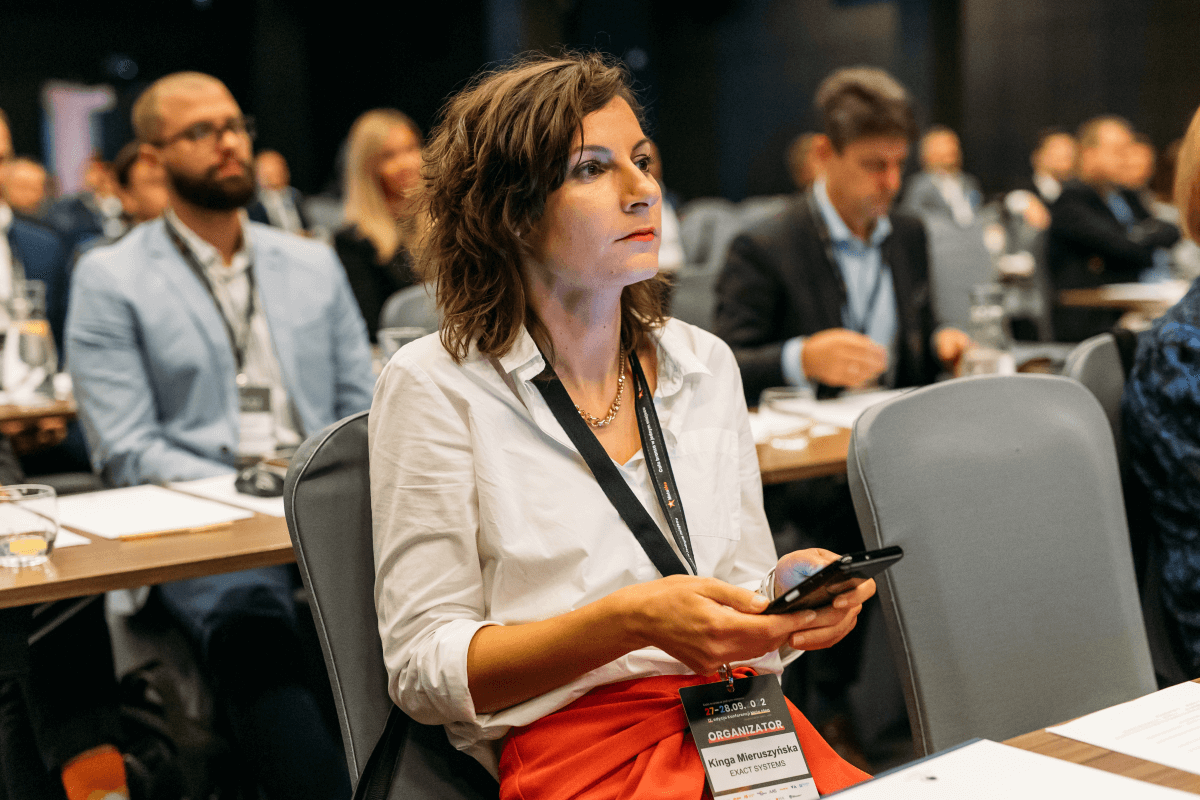 Examples of SMS messages during the Moto Idea Conference
See you at the Conference! Address: Hotel Hilton, 29 Łąkowa Street, 90-554 Łódź. Registration on September 27th. From 9:00 AM, free parking. Hotel check-in from 4:00 PM to 11:00 AM.
The first message was sent to all invited guests a day before the event. The SMS contains all the essential information.
Welcome to the Moto Idea Conference. Hotel check-in from 4:00 PM to 11:00 AM. www.moto-idea.pl
The second message was sent to participants. Due to automation, only those present on September 27th at the conference received it. Guests confirmed on-site were marked in the system – only they received subsequent SMS messages. This ensured that those who couldn't attend that day were not disturbed.
Interaction with participants through 2Way SMS
Below are the sample SMS content sent to conference participants. Using a dedicated receiving number prevented sender ID utilization. Hence each message began with the event's name in square brackets.
[Moto Idea] Ask a question to participants of the panel: Are sustainable development goals synonymous with lower profits and slower growth? Submit your question by replying to this message.
[Moto Idea] Ask a question to participants of the panel: What's new? Submit your question by replying to this message.
[Moto Idea] Ask a question to participants of the fireside chat: Knockout or Slap? Submit your question by replying to this message.
[Moto Idea] Do we really have just over ten years left to purchase a gasoline-powered car? Respond to this message with 'Yes' or 'No'.
These messages were part of audience interaction-based presentations. By maintaining all communication in a single thread, organizers did not need to announce the use of SMS. The dialogue with presenters became a natural component of the event.
No charges for sending SMS to the receiving number
The SMS Long Code and Short Code receiving numbers available in SMSAPI are not Premium numbers. Customers do not pay extra for message sending. The SMS cost is the same as for a regular phone number.
Automation also played a critical role here, as incoming responses and survey results were processed and relayed to presenters in real time. SMS messages were also valuable during panel discussions, which were used to collect questions.
Can SMS replace traditional event apps?
Communication during the Moto Idea Conference was entirely managed through text messages. This included organizational information, such as notifications about parking locations, hotel stay durations, breaks, and meals. Swift SMS messages helped structure the event, set the pace, and gather participants when necessary.
SMS communication during the Moto Idea Conference
2000 SMS messages were sent to participants
127 SMS messages sent by attendees
Every other participant sent an SMS
Total cost for reserving the receiving number: 100 PLN
This highlights the numerous advantages of standard text messaging, making it an appropriate communication tool for large live events, particularly when considering specific audience characteristics. Notably, SMS worked independently here, but it could also serve as an additional channel for urgent messages that absolutely must be read.
A pleasant touch, which Exact Systems and filmcloud prepared together, was a film montage created during the event. Instead of posting it on YouTube and subjecting guests to ads, a direct link to the recording was sent via SMS. This left a positive memory and served as a summary of a successful event.

Robert Majer, Exact Systems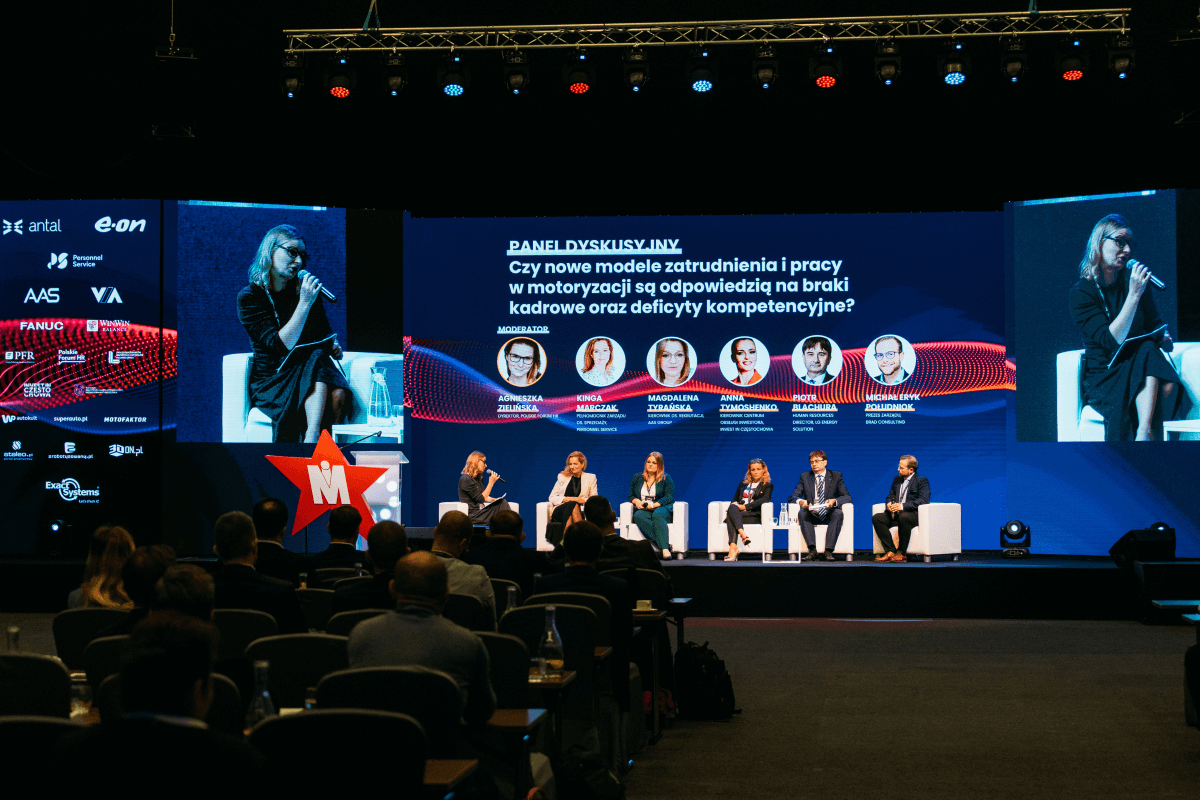 Conclusion
In conclusion, the organizers sent over 2000 messages to participants. Over the course of 4 panels, presenters received a total of 127 questions. It can be assumed that approximately every other conference attendee reached for their phone to send an SMS. Given the specific audience characteristics, achieving such results using traditional tools would be challenging. SMS messages integrated with an external system effectively addressed a real issue and facilitated engaging dialogue with participants.
SMS communication at your event
Create a test account with SMSAPI and get in touch with us. Together, we'll develop a solution tailored to the needs of your event.