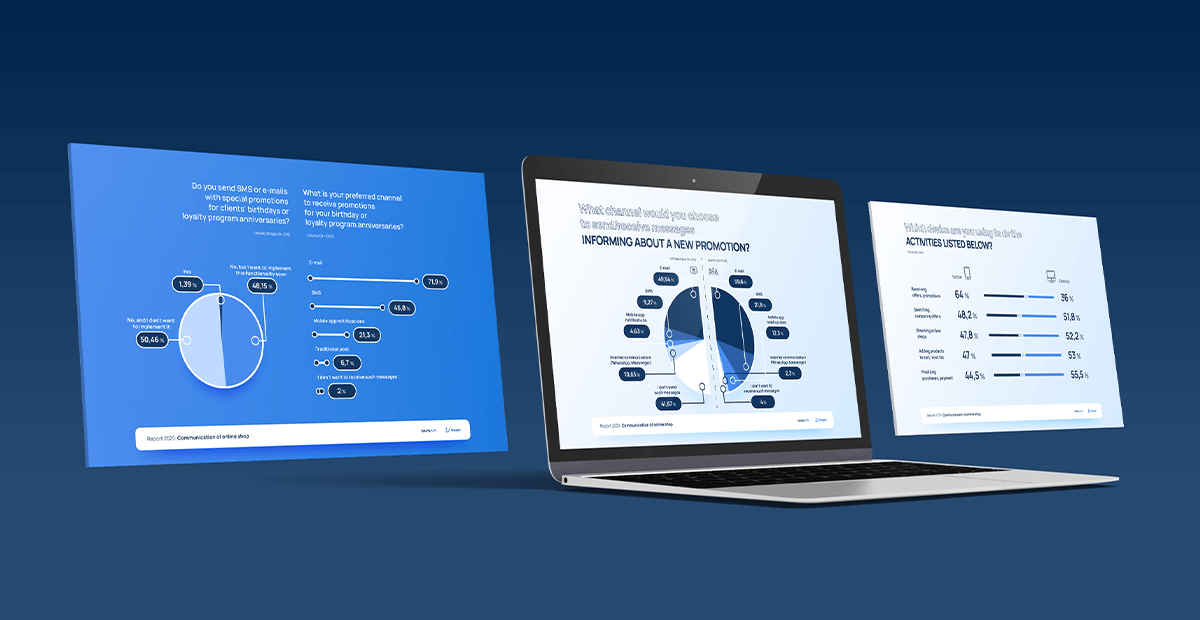 Table of Contents
Welcome to the summary of the 2020 e-commerce report! For most, last year meant changes, both in terms of earning and spending habits. We have conducted two studies testing the relationship between e-shops and their clients in communication practices.
As a preface, the e-commerce communication report is based on two studies conducted in October 2020. Both were done using the CAWI method. The first tested 216 Polish shop owners and the second focused on 1000 adult residents of Poland. Although it tested the Polish market, its findings can also be applied to the other. I'm also referring to our previous report from 2018 to present the changing trends fully.
An outlook of commerce in 2020
Let's begin with the most critical information acquired by the consumer study. They'll give context to the rest of the data. They're also an opportunity to check which branches have already migrated and which are still before this significant step.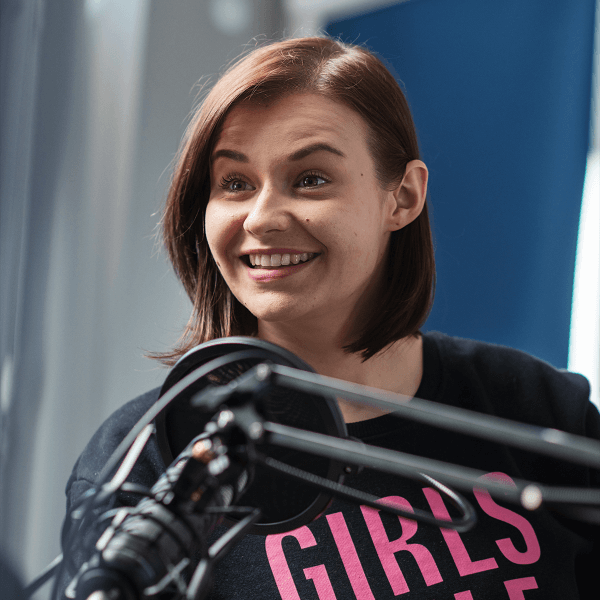 According to data – 37% more e-shops were created in September 2020 than in the last year. The online traffic has increased; the number of transactions has also increased. Consequently, revenue surged. In other words, the branch gained momentum. And so, changed the strategies and shopping habits of customers.

Maja Wiśniewska – PR & Marketing Manager at SMSAPI
The trend is most visible in the books and multimedia sector – over 35% of purchases are made exclusively online, and 30% are bought in retail and online. Similar behaviour has been observed in the hobby, leisure, computers, and electronics categories. The proportion of online purchases is enormous! On the other hand, food products are bought primarily in retail. Only 2,8% of respondents order food online. The growth potential is in clear view!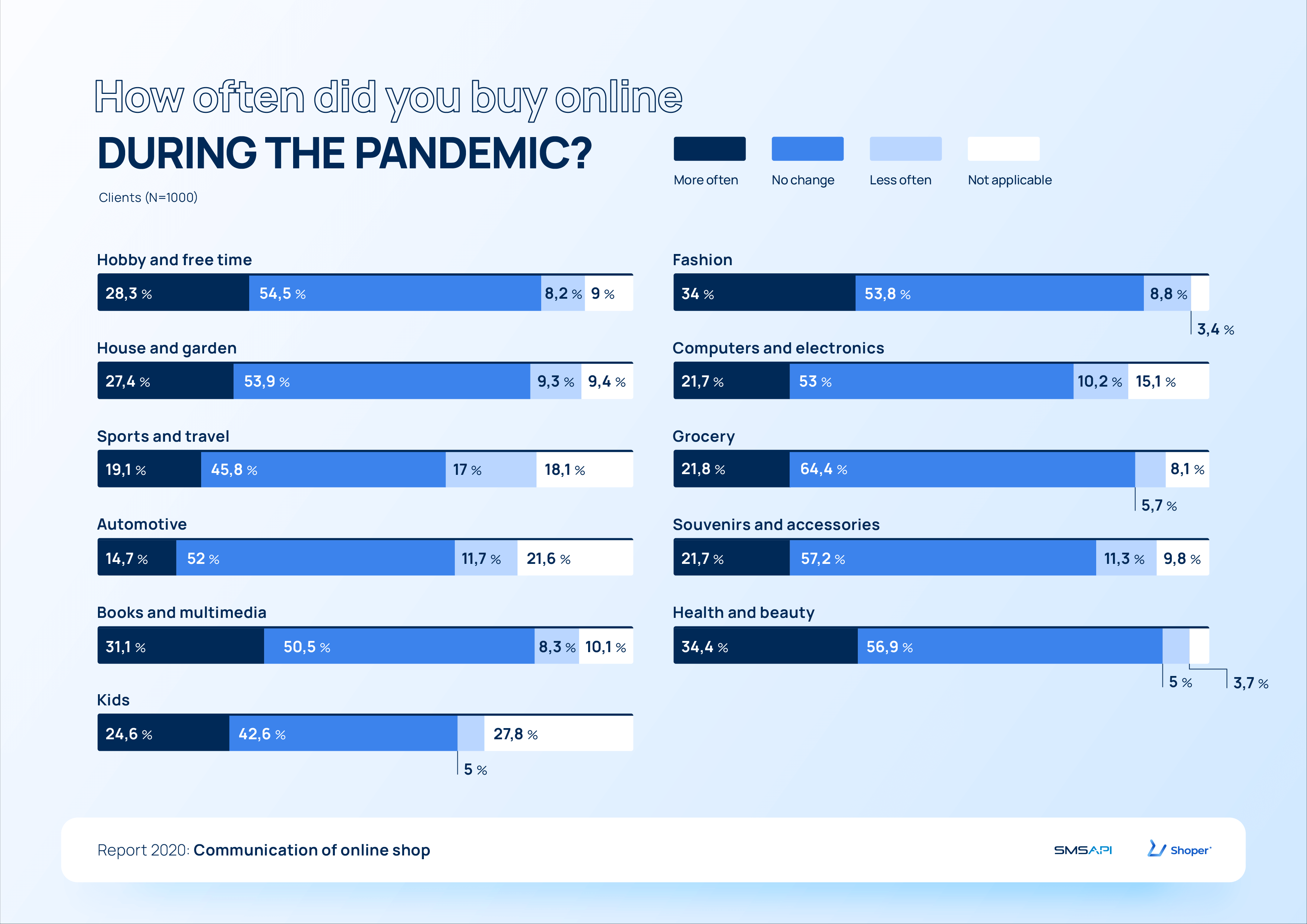 What's more, clients confirmed the increase in online purchases. In the fashion product category, 34% said they order online more frequently. Similarly, more people buy online books, multimedia, and other stuff connected to leisure activities and beauty and health.
The change is apparent – forced closure of shops and shopping centres due to the COVID-19 pandemic. It's worth mentioning that all products bought online didn't require trying on, except for clothes and shoes. The study confirms that an easy return policy and well-prepared and presented offers influenced online buyers' choices.
Online shopping: mobile or desktop?
Let's answer the question: how do people order online? And specifically on which devices they browse, compare, add products to shopping cars and finally, pay. What makes them decide on a particular offer? Answers will help to comprehend shopping behaviours and will allow designing brand's touchpoints better. If you want to make money online, branding and promotional elements are essential.
To do so, we'll move through the customer journey step by step. Promotions are received mostly on phones and tablets – 64% of respondents have confirmed it. The usage of mobile devices drops with each step closer to the payment. The final stage is still made mainly on computers. Interestingly, the security of the transaction is important to only 22,9% of customers.
Preferred device to shop online
| | | |
| --- | --- | --- |
| Action | Usage of mobile in 2018 | Usage of mobile in 2020 |
| Receiving offers and promotions | 59,3% | 64% (+4,7%) |
| Searching for offers | 42,4% | 48,2% (+5,8%) |
| Browsing shops | 37,4% | 47,7% (+10,3%) |
| Payment | 34,5% | 44,5% (+10%) |

Source: 2018 and 2020 SMSAPI reports
We should compare the results with answers from 2018. The change is clearly visible – mobile devices are slowly yet steadily pushing desktop traffic away. Almost half of online buyers search, browse and add products to carts using handheld devices. This is critical information for e-commerce administrators – shops should adapt to smaller screens. It applies to layout, ease of navigation, and the availability of functionalities, payment methods and customer service channels.
E-commerce cannot ignore customers coming from smartphones and tablets as their participation in the market will grow. Considering 71,3% of customers take up to 2 hours to browse and compare offers, it's worth optimising the shop's website or app's user experiences. Even more so since the biggest changes happened in the final part of the customer journey: browsing and payment.
The easiest way is to prepare product comparison tools, rankings or even articles presenting the pros and cons of different variants, configurations or sets. Keeping the client in the company domain has multiple advantages, affecting the brand image and more business-oriented ones. Such content will impact the search results and fulfil the user's intent to acquire knowledge. Just remember that it has to be equally available and comfortable on phones and PCs.
The online buyer decision process
Unsurprisingly, asked what impacts their purchase decision the most, clients pointed toward the price. It's understandable, especially in the case of similar or identical products available at many various shops. What makes a difference is little details like an attractive presentation of the offer, highlighting added values and unique bonuses. Almost 40% of respondents consider these as a deciding reason to pick an online shop.
Free shipping is the second most important value highly appreciated by online customers. Over 60% of buyers choose it as the deciding factor. Clients do not wish to pay for the shipping service, so it might be profitable to include it in the products' price. The higher cost will be accepted as long as the lack of additional fees justifies it. By the way, unexpected costs are one of the reasons for leaving the shopping process unfinished. As a side note, see how Amazon does it.
All advantages like fast, comfortable payment methods (quick transfers, cash on delivery, Google Pay, etc.), beforementioned free shipping (in multiple variants) and client-oriented return policy are factors that significantly affect the purchase decision. Interestingly, only 1/3 declared that online reviews, opinions and comments are helpful during shopping. Is it because there are no reliable methods of checking their credibility?
Read more about SMS for e-commerce
Online store communication
One of the most interesting effects of the study is that 41,76% of online shops send no messages informing about new promotions. To give a perspective, only 4% of customers wouldn't like to receive information about them.
Online brands can intensify their marketing as long as they use the proper communication channels (emphasising plural). When deciding whether to use a particular channel, one should consider the popularity of all the devices used to purchase online and clients' channel preferences.
A good newsletter
Valuable newsletters are popular among consumers. Nearly 60% didn't unsubscribe from any in the last months. Those who did (only 23,8%) declared that the main reasons for doing so were too high frequency and uninteresting or below expectation content.
The first issue confirms that less indeed means more. The second should be a hint to check the communication effectiveness. Both problems are easily solvable by providing honest information on frequency and subject before the subscription. The store website, registration form, order completion, and payment pages are the best locations.
Comparing shop owners and clients' views on the matter brings a simple conclusion: e-commerce does not use mobile communication to its full potential. Sadly, it results in losses for both sides.
Businesses are mainly using organic social media posts supported by paid campaigns. As expected, mailings are widespread too, also among customers. The next preferred channel is SMS and search results.
According to the consumers, social media are fifth from the top, below price comparison services. The results suggest that shops should change their patterns and expand their marketing tool portfoliIt'It's best to focus on the mobile channel and create content adjusted to smaller screens.
Customer service in e-commerce
The comparison of essential aspects of customer service brings another useful clue. We have asked the same question to owners and clients. Without a doubt, the speed of answering and solving a problem is the most critical aspect.
That's why it is advisable to use quick and reliable tools. E-mails, Push notifications and text messages would be natural picks. In contrast to the first two, SMS has the advantage of offline availability and no technological requirements.
Transactional messaging
Let's get back to the customer journey, to the moment right after a successful purchase. What happens next will affect future orders and the relationship between the client and the shop. I'm talking about transactional messages of course. We have divided them by their subject:
order confirmation,
payment status,
order status,
order completion,
shipment,
return confirmation,
return completion.
As you probably guessed, e-mail is the most popular tool to inform about them all. Shops and their clients alike confirm it. Next is SMS communication, which customers generally value more than e-commerce owners. The third place takes Push and online communicators. App notifications are more popular among customers, while administrators prefer the latter. What are the reasons for this situation? It looks like customers would rather leave communicators for private messaging.
Nearly all shops communicate about order confirmation and shipping. Clients also want to receive those messages. Thus, we can consider them the most important of all transactional messages. Their delivery should be assured and fast. More than 1/3 of clients would choose SMS notifications to get them skipping stages in the middle because they are consistent with the trend. During eventual returns and complaints, speed and effectiveness are valued above all else. Informing about the process is secondary as more "I don't want to receive such messages" appeared in the last stages.
More data?
To summarise, e-mail is the bread and butter of e-commerce, but… Senders of business communication and their customers agree that there are better tools to get the job done in certain situations. After all, choosing the right tool might decide future orders and brand image.
The report on which this article is based on an analysis of Polish e-commerce from the perspective of B2C communication. The full report is available in Polish for free at the SMSAPI website.