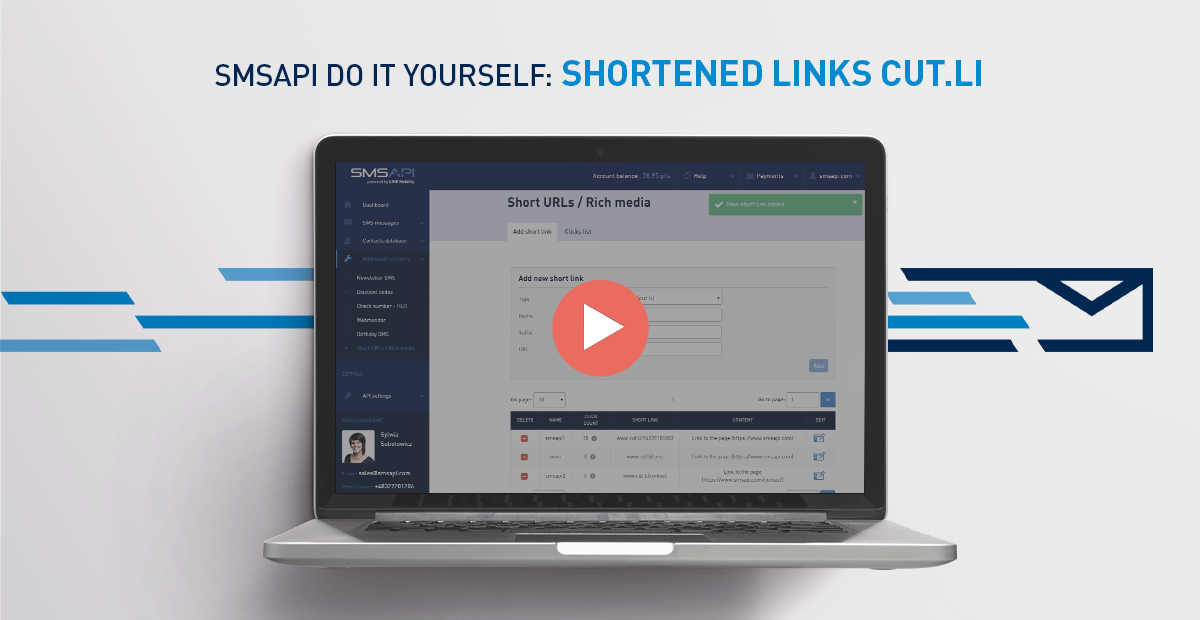 Welcome to the next part of the SMSAPI Do it yourself Guide. In this part, you will learn how to use short links cut.li as a part of the SMS messages and analyse their effectiveness.
Cut.li is our link shortener
Welcome to SMSAPI – global SMS gateway for companies, startups and public institutions. The cut.li is our link shortener, available for all registered users. Register and test our mobile messaging platform.
How to shorten links using cut.li?
The easiest way to create a shortened link is to add it when creating the message in the SMS gateway by clicking on the "Link URL" button. You can add a link or select one of those previously saved.  
How to use short links to measure the effectiveness of your SMS campaigns?
In the field "Short URL to WWW address" paste the destination URL. Then, select whether you want to send the same link to all recipients or individual links to every recipient. In the latter case, the system will generate personalized links for each recipient or you can choose to send "the same URL for every recipient" – then you will have to define the suffix after the slash in the address.
Adding a shortened link
Shortened links are managed in the Additional functions tab. To shorten a link, first select its type – shortened link to a website or rich media file. Rich media files mean that under the link there's a file, image, picture or video and you should upload it first. The link to the website redirects to the chosen URL.
When the type is chosen, specify the working name of the link and enter the suffix, which is a string of characters after the slash, e.g. www.cut.li/smsapi, and paste or type the address to which the link should lead and click "Add".
Managing your short links
Below is a list of all shortened links with the option to remove them, their name, the number of clicks divided by device type, link itself, content and editing option.
View list of clicks
The Clicks List tab contains a detailed analysis of all clicks over time (from the latest). It is possible to filter the view according to the date range from-to, the selected link and to generate a report to a CSV file.
Each click on the list contains information about the date and time of the click, phone number (if the shortened link created was individual for each recipient), name of the shortened link, its address and details: operating system, browser and device type.