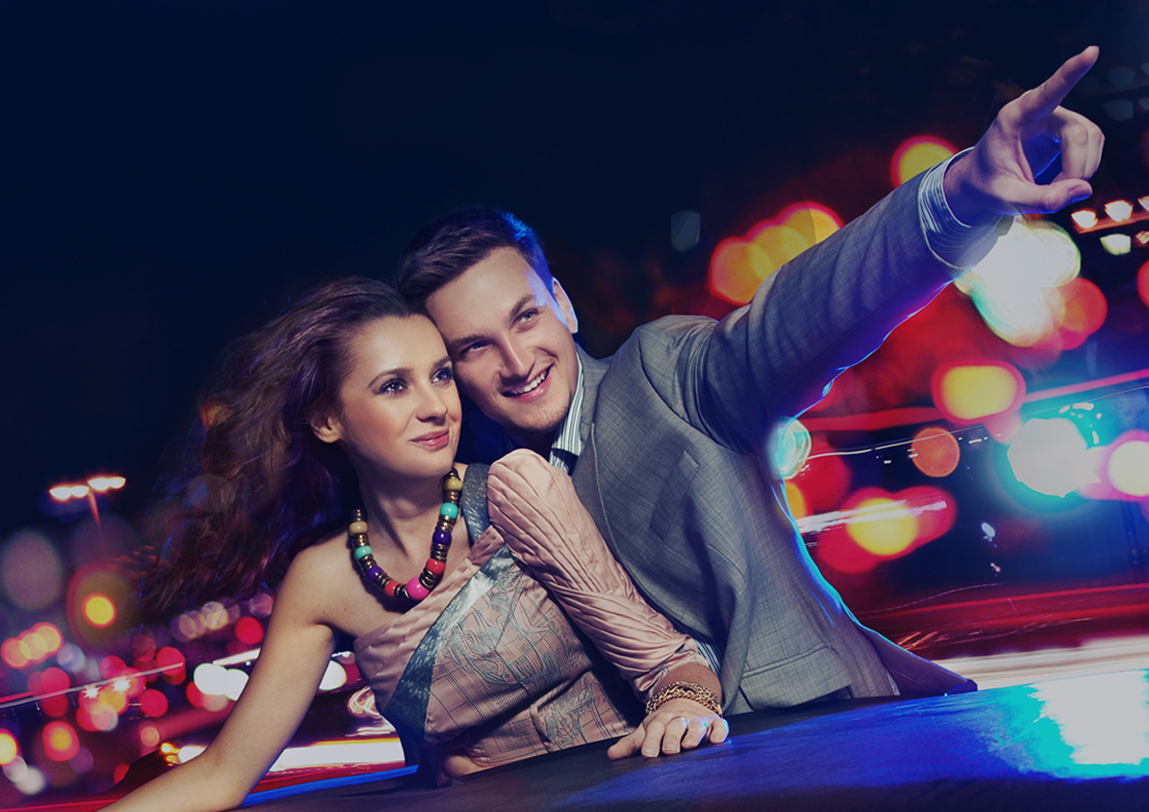 Table of Contents
Six months, 6 messages – that's all it takes to present how to successfully use SMS communication. The example was set by the chauffeuring company – Auto awa. Their secret is a well-maintained contact database and a good sense of clients' needs.

Let's take a look at the Auto awa company which offers transportation and driver on-demand services for business and family meetings. Many of the company clients are regulars with a strong, positive sentiment towards the brand.
A smartphone is the first touchpoint, all rides are ordered and managed using it. Hence, the company's large database of high-quality contacts. All of the above makes for the perfect start for SMS communication.
1. Timing of the SMS campaign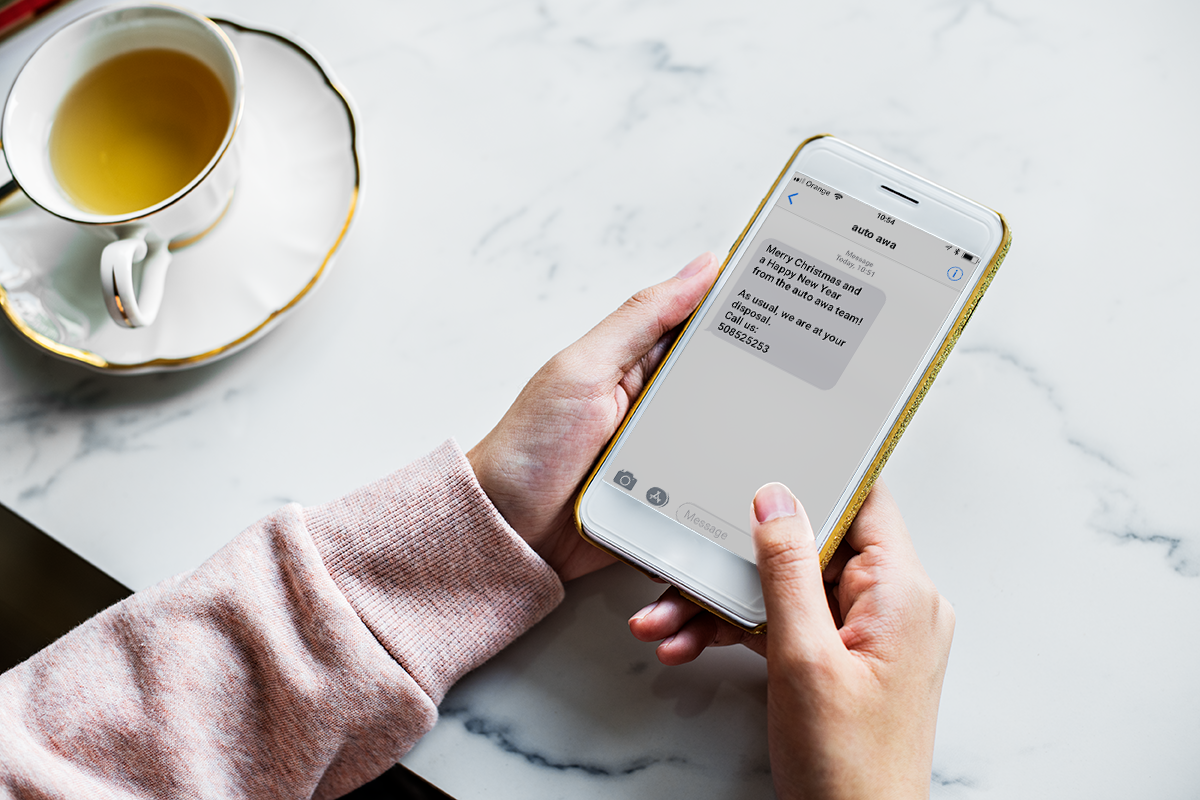 The very first message Auto awa has sent contained Christmas greetings. The SMS has reached 983 recipients. The company has included a phone number on which customers could order a ride and get more information.
SMS campaign brought a 50% increase in the number of rides in the 2017 holiday season (Christmas Eve, Christmas and following days) if compared with the previous year. Over 80% of customers have also booked a ride for New Year Eve in advance.
Single SMS campaign sent to a highly engaged target group brought 42% revenue growth (compared to the same period a year before).
2. Know the tastes of your customers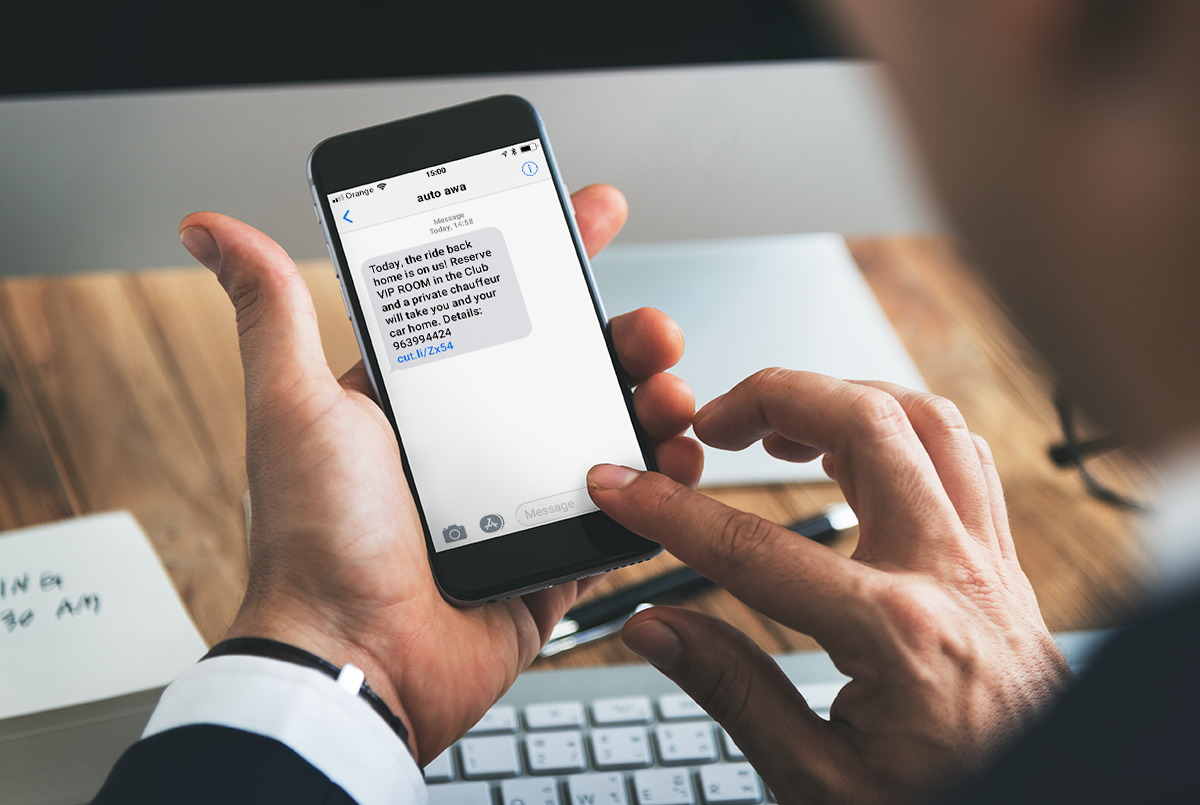 Auto awa focuses its marketing activities on a very specific group – wealthy business owners. Therefore, in January 2018, the company in cooperation with one of the most prestigious clubs in the city have run a campaign targeted at customers looking for luxurious places to unwind.
The information on how to book a VIP room together with the ride back home was sent to 1062 recipients. Among them, 120 customers have clicked the included shortened link and 20 have called back to arrange a ride. As result, 8 VIP rooms were reserved, the sales of auto awa have risen by 38% (compared to the same month year before).
3. Predict the needs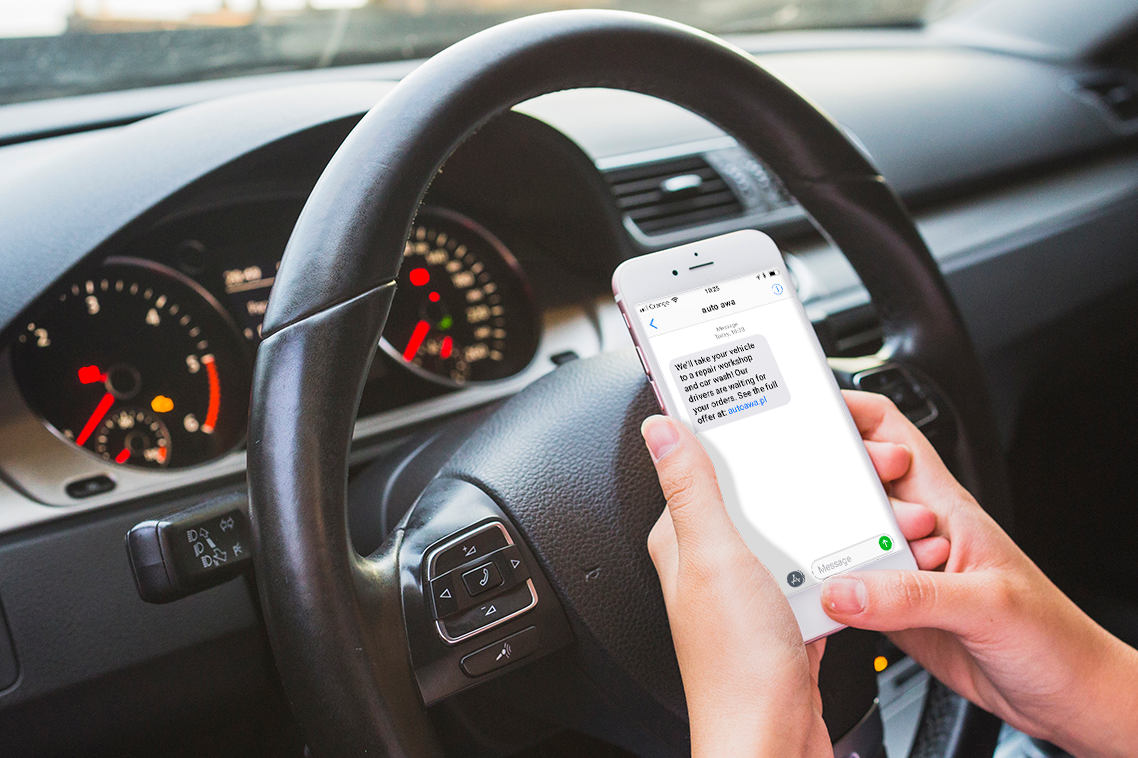 Chauffeuring is just a part of the auto awa's offer. To boost the awareness of other services, they have relied on SMS communication. In February 2018, 1080 customers, who by that time have only ridden back home from 6 PM – 6 AM, received an SMS with a shortened link to the full offer.
The text messages included information about car service, car wash and tire replacement rides. The effect – additional EUR 700 in revenue.
4. Boost your sales with an SMS campaign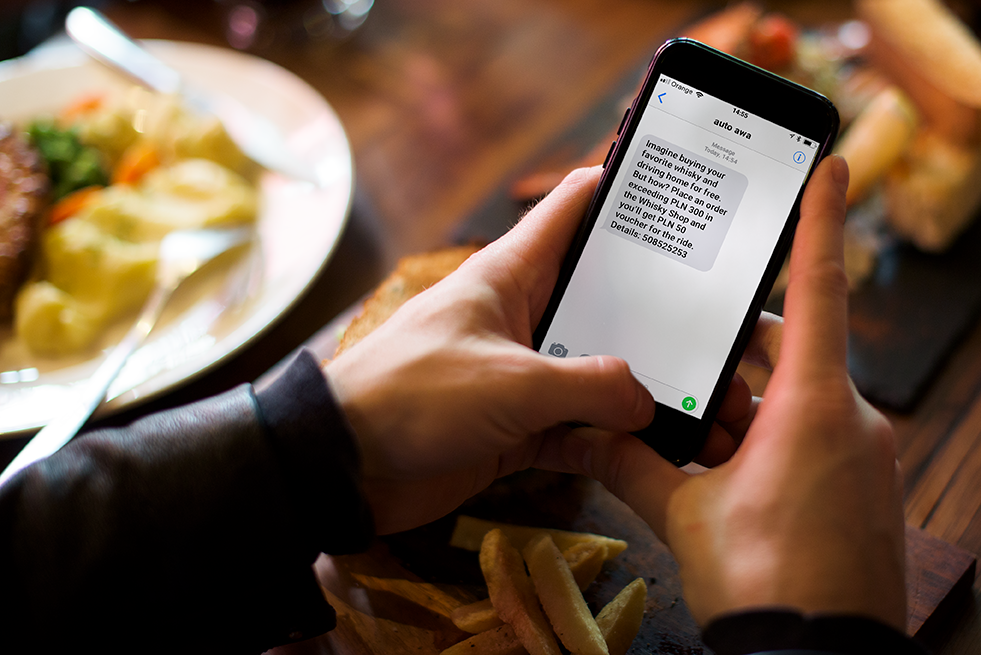 Auto awa, keeping in mind the interests of their main target group has decided to run a campaign with a local top-shelf alcohol shop. The link shortened with cut.li led to a video clip jokingly explaining the rules of the special offer.
Among 1103 recipients, 17 have returned home with Auto awa. A single SMS resulted in a 60% increase in revenue in March 2018 (versus the result of March 2017).
5. Respect privacy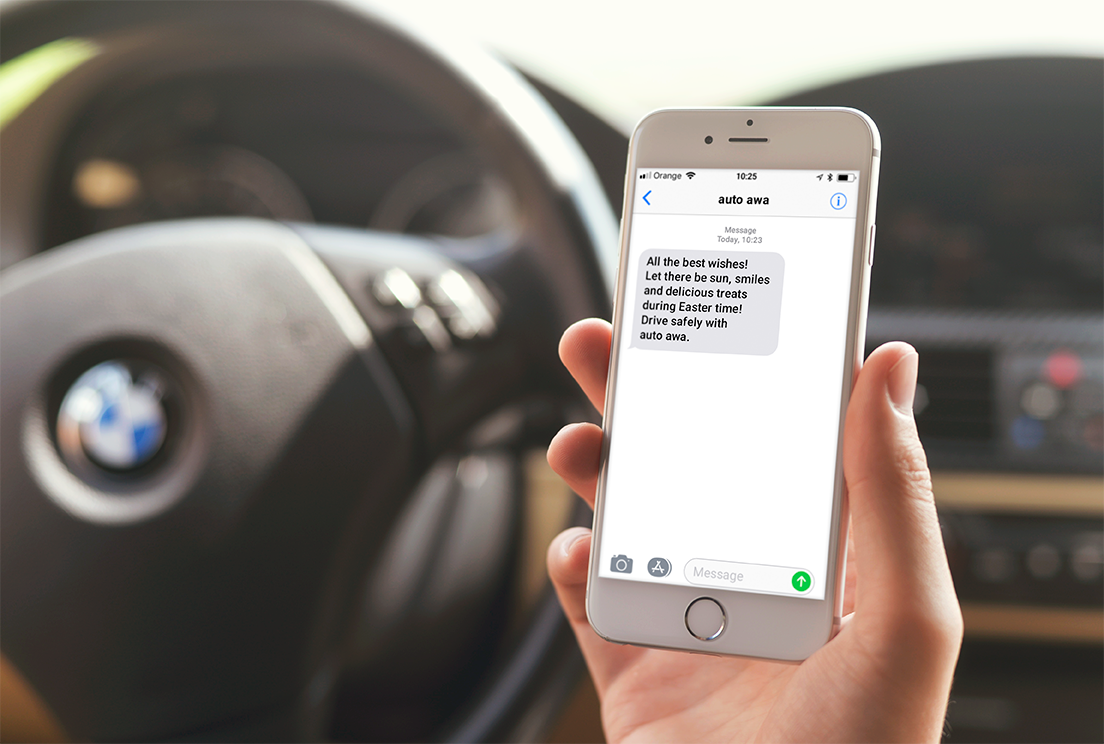 Simple Easter greetings sent to 1166 customers allowed the company to increase the number of orders by 40% which resulted in a 51% increase in revenue in April 2018.
It's worth mentioning that the greetings were sent without any marketing messages. Simple, heartwarming SMS turned out to work better than a sales-oriented one.
6. Ride on good opinions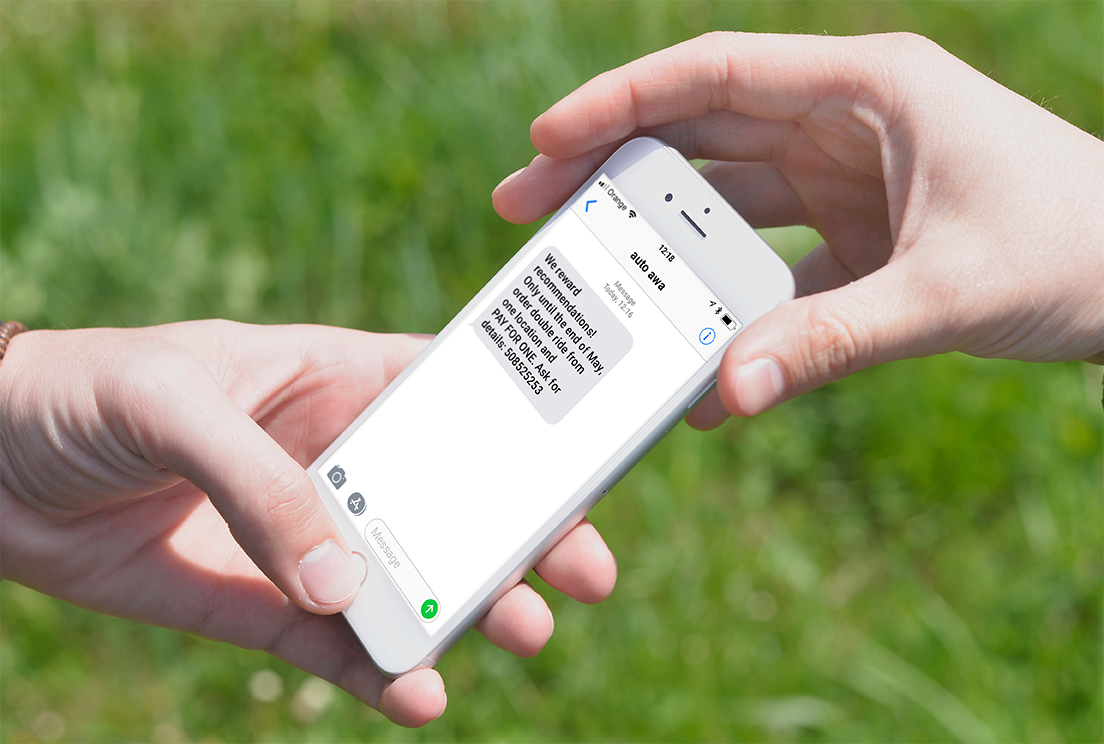 SMS marketing works really well with WOM (Word of Mouth) Marketing. Auto awa has presented its customers with an option to share the costs of dual rides.
1202 customers have received an SMS with information about the special offer. Auto awa reported that the number of dual rides has increased by 400%. Consequently, their revenue has grown by 53% in the month.
Conclusions
Thus, SMS is a natural channel of communication. Once received, messages are saved in a mobile's archive. The personalized sender ID rules out mistakes. With an SMS always at the fingertips, one can plan meetings without worrying about a safe and legal return to home.
Auto awa relies heavily on the positive sentiment towards the brand. After all, they solve problems and care for the client's safety. SMS is a convenient reminder that a car is never an issue.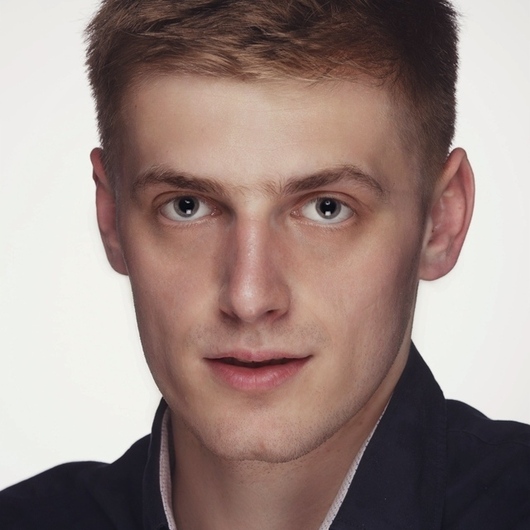 Almost all courses come from the recommendation of our loyal customers. Thanks to the cooperation with SMSAPI, we can reach our audience, directly and fast. We try not to sale our services. Discounts are rare, as we tend to "hunt down" occasions and offer something more.

It's considerably cheaper to care for your clients than to look for the new ones. It's really simple – once you have gained the client's trust and engagement, do everything to maintain it – you'll earn more.

Łukasz Gapa – Auto awa
The continuously growing audience group and increasing monthly revenue (compared to months without SMS sent) are both worth highlighting. Low frequency (one SMS per month) makes the communication fresh and engaging.
At Auto awa, SMS messages function as reminders and a way to build customer loyalty. Periodical reminder helps to keep the engagement high and build the brand's positive image.